Afghan ex-President Karzai sees no difference between US, ISIS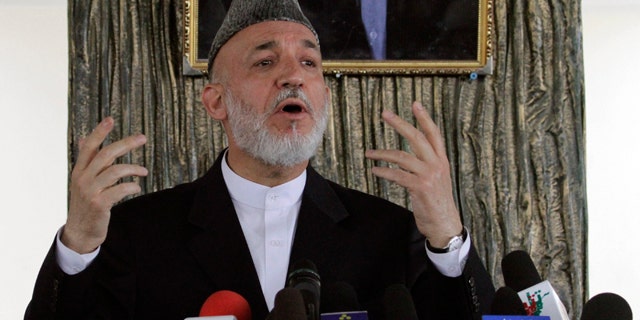 NEWYou can now listen to Fox News articles!
Former Afghan president Hamid Karzai doesn't see a difference between the U.S. and the Islamic State.
"I do not differentiate at all between Daesh and America," Karzai said in an April 19 interview with Voice of America's (VOA) Afghan Service. Daesh is the Arabic acronym for ISIS.
U.S. DROPS LARGEST NON-NUCLEAR BOMB IN AFGHANISTAN AFTER GREEN BERET KILLED
In the interview, Karzai specifically condemned the recent dropping of the GBU-43 Massive Ordnance Air Blast (MOAB) bomb in eastern Nangarhar province by the U.S. Karzai said the "Mother of all bombs" attack, which allegedly killed 95 militants, did little to eliminate ISIS.
"After it (the U.S.) dropped the bomb on Afghanistan, it did not eliminate Daesh," Karzai continued.
AFGHAN ARMY COMPOUND ATTACKED BY GUNMEN, DOZENS DEAD AND INJURED
"They dropped an atomic bomb on Afghanistan — there's no difference between 'the mother of all bombs' and an atomic bomb," Karzai said. "I consider Daesh [the U.S.'] tool," he stated.
Karzai, who took office in 2001 and remained in power until 2014, has seen his relationship with the U.S. sour in recent years. He has accused the U.S. of trying to destabilize Afghanistan along with the Taliban, and in 2014 refused to meet with President Barack Obama during a surprise stop Obama made at a Bagram military base.
Karzai's unhappiness with the U.S. has grown amid worsening ties between the U.S. and Russia.
Karzai was upset by the U.S. refusal to attend recent Moscow-brokered talks regarding the future of Afghanistan. The U.S. didn't attend the meeting because of concerns with Russia but in the interview with VOA Karzai accused the U.S. of being insincere in attempts to bring peace to Afghanistan.
"[Russia] talk[s] to the Taliban, the U.S. also talks to the Taliban. Norway, Germany, and other countries also talk to them. Russia has the right to hold talks with the Taliban," he said.