Afghan car bombing: Taliban claims responsibility after 29 killed in attack outside bank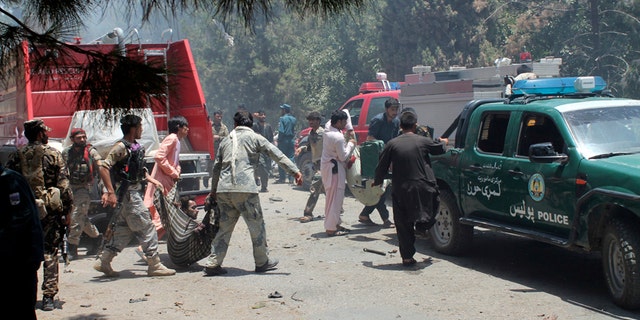 NEWYou can now listen to Fox News articles!
KANDAHAR, Afghanistan – A suicide car bomb exploded Thursday at a bank in Afghanistan's Helmand province as Afghan troops and government workers waited to collect their pay ahead of a major Muslim holiday, killing at least 29 people, officials said.
Most of the casualties in the explosion near the bank in the provincial capital of Lashkar Gah were civilians, said provincial Gov. Hayatullah Hayat. At least 60 people were wounded, he said.
CAUTION: GRAPHIC IMAGES BELOW
The Taliban claimed responsibility for the attack at the Kabul Bank in the southern province, which has been the center of bitter battles between the insurgents and security forces, aided by NATO troops.
ISIS MILITANTS DESTROY 12TH CENTURY MOSQUE IN IRAQ'S MOSUL
The militants, believed to control nearly 80 percent of the province's countryside, increasingly have been making a push into Lashkar Gah to try take the city.
Taliban spokesman Qari Yusuf Ahmadi said in an email that the bomb targeted Afghan security personnel collecting their salaries. He said no civilians were killed and gave a higher death toll. But the provincial governor and police chief emphasized that most of the dead were civilians. Witnesses said children were among the wounded.
In recent weeks, the Taliban have overrun Helmand's key Sangin district, where both British and U.S. troops had fought for years to keep them at bay.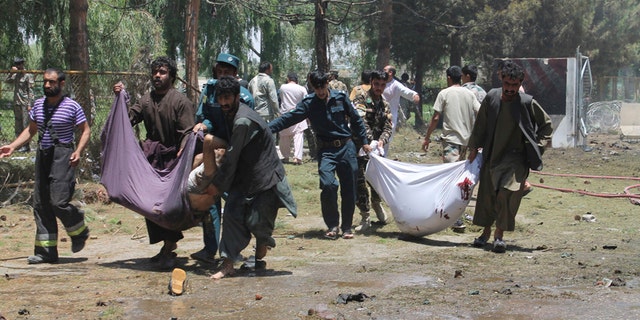 The attacker struck as scores of people, many of them Afghan soldiers or civil servants, were waiting near the Kabul Bank to collect their salaries ahead of the Eid -al-Fitr holiday, which follows the holy month of Ramdan, which is expected to end later this weekend.
Esmatullah, an Afghan border policeman, who was at the scene of the explosion said the noise from the blast was deafening. He said many are missing in the ensuing chaos as witnesses, survivors and ambulances struggled to ferry first the most seriously wounded to hospital.
SMALL EXPLOSION NEAR NATO FACILITY IN TURKEY; NO INJURIES
"We are taking children to the hospital," said Esmatullah, who like many Afghans uses only one name.
A 12-year-old girl named Hosnia was crying outside the bank as she searched for her father who had brought her to buy shoes ahead of the holiday.
"I couldn't find anyone, my brother and my father," she said. "My father told me he will take me to buy shoes. We came here and then there was the explosion."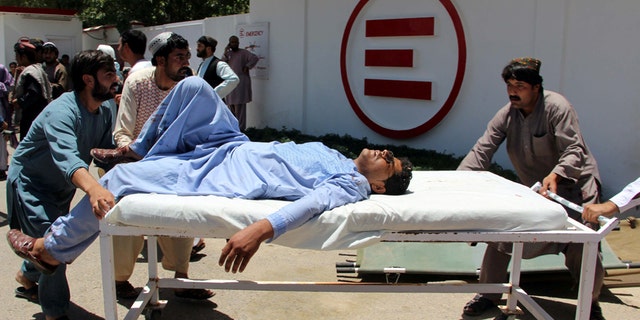 President Ashraf Ghani assailed the attackers as "enemies of humanity." He said the relentless assaults in Afghanistan are particularly offensive during Ramadan, when the faithful seek forgiveness for their wrongdoings.
"These brutal terrorist attacks ... prove that they (insurgents) have no respect for any religion or faith," Ghani said in a statement.
Afghanistan has faced a series of large-scale attacks as the Taliban stepped up the war against the Kabul government in this year's summer offensive. In addition, the emerging Islamic State affiliate in Afghanistan has tried to increase its footprint with attacks in urban areas.
The worst occurred May 31, shortly after Ramadan began, when a truck bomb exploded in the heart of the capital of Kabul, killing 150 people. It was the worst attack since the Taliban ouster in 2001.
Pakistan also condemned Thursday's suicide bombing, saying that "we firmly stand with our Afghan brothers in this hour of grief and anguish."
Afghanistan and Pakistan routinely accuse each other of harboring the insurgents.
Helmand is considered a key region because it is one of the largest opium-producing provinces for the Taliban, who charge traffickers a hefty tax to move their contraband to market. Corrupt government officials also benefit from the production and trade of opium, the raw material for heroin.
Afghanistan is the world's largest opium-producing country, producing more than all other countries combined, according to U.N. estimates.
Meanwhile, a militant attack Wednesday night in a mosque in eastern Afghanistan killed two members of the local council.
Salim Sallhe, spokesman for the provincial governor in eastern Logar, said gunmen opened fire at worshippers in Baraki district. Two other local officials were wounded.
Sallhe said police are investigating. A Taliban spokesman, Zabihullah Mujahid, denied the insurgents were behind the shooting.