Ad marketing 'sugar daddy' dating site to undocumented immigrants stirs anger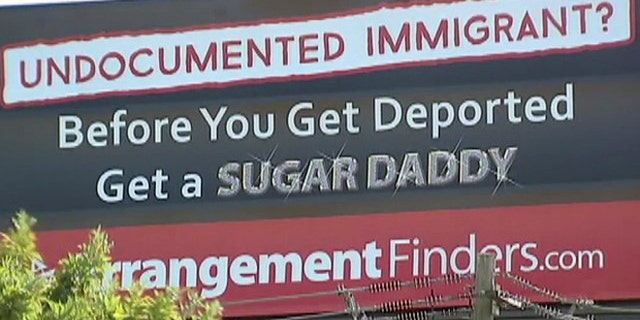 NEWYou can now listen to Fox News articles!
A matchmaking service aimed at "sugar daddies" and "sugar babies" is feeling the heat after posting a billboard advertising to undocumented immigrants in Austin, Texas.
ArrangementFinders.com, a service that promises to link wealthy older men to young women who are hoping for a financial or other type of arrangement, posted a billboard on Interstate 35 in South Austin reading, "Undocumented immigrant? Before you get deported – get a sugar daddy."
Residents are upset about the implication that people would break immigration laws by, presumably, marrying in order to gain citizenship.
When asked by ABC affiliate KVUE about the billboard, Kylie Brumley said, ""I think it's really disrespectful to all women and illegal immigrants."
Jesse Aguilera said, "To get around getting legalization like that, it's just really offensive."
"On a billboard they're encouraging people to commit a federal felony," Thomas Esparza Jr. told Fox 7 Austin. "It's rare that you see a billboard that says, 'Commit a felony.'"
Jacob Webster, who was identified as the Chief Marketing Officer for ArrangementFinders.com – which, according to its website, changed its name to Ruby on July 12, 2016 – told Fox 7 that the billboard went up on Friday of last week and was expected to remain up for 4 weeks.
"I think you're going to have people that are against it, and then you're going to have people that are going to sign up for it," Webster said.
ArrangementFinders.com was founded in 2010, and is owned by Avid Life Media, a Toronto-based company that also operates Ashley Madison, the infamous dating website for married people.
Cost of membership to ArrangementFinders.com is $79 per month for men, free to women. The two can then meet off-line to determine what kind of "mutually beneficial relationship" they would like to have, according to the website.
The site is known for its controversial advertising. In 2014, the company had billboards removed in Chicago and Los Angeles, including one that read, "Because the best job is a b--w job."
Webster told Fox 7 that Latinas make up one-third of the women who sign up for ArrangementFinders.com, and the add was an attempt to reach out to them.
"How could we speak to this growing demographic for this site in a way where we could get the max effect?" he said.
He added that the billboard had been rejected by other locations. "We had a couple approvals, but we got a lot more denials. All the major markets in terms of Los Angeles, San Diego, Phoenix and Dallas denied us," Webster told Fox 7.
On Friday afternoon Fox News Latino contacted Debra Quinn, a company spokesperson who said that "the billboard was created independently by an affiliate – it is completely unacceptable and does not reflect the views or vision of our company, so we have requested that they take it down immediately."
Like us on Facebook
Follow us on Twitter & Instagram