Activists: Syrian Troops Fire on Fleeing Residents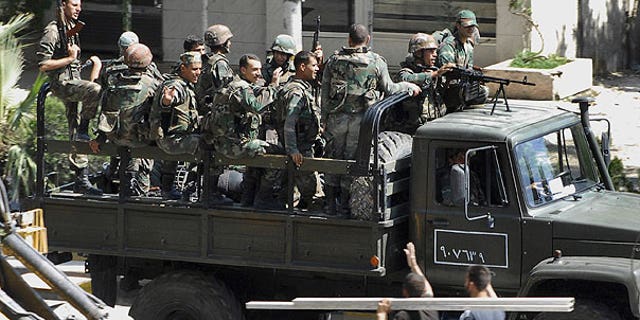 BEIRUT – Syrian troops besieged residential areas of two key cities Monday, firing on residents as they fled for safety and killing at least two people during broad military assaults to root out dissent against President Bashar Assad's autocratic regime, witnesses said.
Assad has dramatically escalated the crackdown on a 5-month-old uprising since the start of the holy month of Ramadan, a time of piety and reflection when many Muslims fast from dawn to dusk. Despite blistering international outrage, the regime is trying to establish firm control in rebellious areas by unleashing tanks, snipers and -- in a new tactic -- gunboats that fire from the sea.
The military assault in the port city of Latakia was in its third day Monday after gunboats joined ground troops Sunday for the first time in the uprising. Nearly 30 people, and possibly more, have been killed in the city since Saturday, activists say.
Soldiers also stormed the area of Houla in the central city of Homs, which has seen massive protests in recent months. A sniper killed an elderly man, according to the London-based Observatory for human rights, which has a network of activists on the ground in Syria.
The group said more than 700 people have been arrested in and around Homs since the beginning of August.
The regime has banned foreign media and restricted local coverage, making it difficult to verify accounts on the ground.
The attacks in Latakia, which started Saturday, were the latest wave of a brutal offensive that show Assad has no intention of scaling back despite international outrage and new U.S. and European sanctions.
As the gunships blasted waterfront districts Sunday, ground troops and security forces backed by tanks and armored vehicles stormed several neighborhoods, sending terrified women and children fleeing.
The Observatory said troops opened fire Monday as a group of fleeing residents approached a checkpoint in the Ein Tamra district of Latakia. One person was shot dead and five were wounded.
A Latakia resident confirmed the account, saying troops fired as scores of people, many of them women and children, were fleeing. He spoke on condition of anonymity for fear of reprisals.
The Local Coordination Committees, an activist group that helps organize protests in Syria, also confirmed troops fired at fleeing families. It said random gunfire erupted Monday in addition to a campaign of raids and house-to-house arrests.
Troops later entered small neighborhoods in the al-Ramel Palestinian refugee camp, warning people to leave or risk their houses being destroyed, it said.
Amateur videos posted online by activists showed smoke rising from the al-Ramel district, the sound of heavy gunfire and people shouting, "God is Great!"
A Syrian military official on Monday denied as "absolutely baseless" reports that gunboats had fired on Latakia. The official, whose comments were carried by state-run news agency SANA, said the gunboats were patrolling the coast "on a routine mission to prevent weapons smuggling into the country."
On Sunday, SANA said troops were pursuing "gunmen using machine guns, hand grenades and bombs who have been terrorizing residents in the al-Ramel district."
The regime blames the unrest on a foreign conspiracy and often issues reports on its state-run media that contradict widespread witness accounts and video footage provided by witnesses.
The security forces appear to be intent on crushing dissent in Latakia, which has seen large anti-Assad protests since the Syrian uprising began in mid-March. On Friday, as many as 10,000 marched there, calling for the president's ouster.
The brutality has fueled international outrage with Syria, a hardline Arab state closely allied with Iran, and led to new sanctions against the regime by the U.S., Canada and Europe.
On Monday, Assad sacked the governor for the key northwestern province of Aleppo, Ali Mansour, and replaced him with Mowaffak Khallouf, SANA said.
No reason was given for the sacking. But while the opposition has yet to bring out the middle and upper middle classes in Damascus and Aleppo, the two economic powerhouses, protests have been building in Aleppo. Four people were killed there Friday as security forces attacked protesters.