Abu Dhabi's Etihad buys 49 pct of Serbia's JatAirways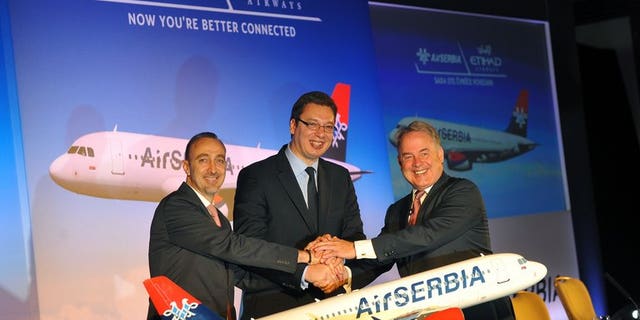 ABU DHABI (AFP) – Etihad Airways based in Abu Dhabi said Thursday it has signed an agreement with Serbia to acquire 49 percent of its loss-making JatAirways, which will be rebranded as Air Serbia.
The Gulf's fast-growing carrier and the Serbian government have agreed to inject $40 million into the Serbian national carrier, a statement said.
Under the deal signed in Belgrade, the $40 million will be converted into Etihad equity in the Serbian carrier on January 1, 2014, after approval of the acquisition by regulators.
The two parties will also "each provide up to $60 million further funding," the statement added.
Etihad has been awarded a five-year contract to manage the carrier.
"We will have tough decisions to make," said Etihad's chief James Hogan.
"But the financial investment by Etihad Airways and the government of Serbia, together with the positive impact of our joint management expertise and experience, will help ensure this airline, with its proud history, now has an even brighter future."
After two failed attempts to sell Jat, Belgrade issued a public appeal for a strategic partnership to create a new national airline to replace the carrier. That bid also failed after the withdrawal of the only potential partner, Latvia's Air Baltic.
Jat has a fleet of 14 planes, 10 Boeing 737-300 and four ATR 72-200s, all of which are around 20 years old.
Etihad holds equity investments in Airberlin, Air Seychelles, Virgin Australia, Aer Lingus and Jet Airways.