Abandoned ship: Sailors left adrift by transport firms' legal battles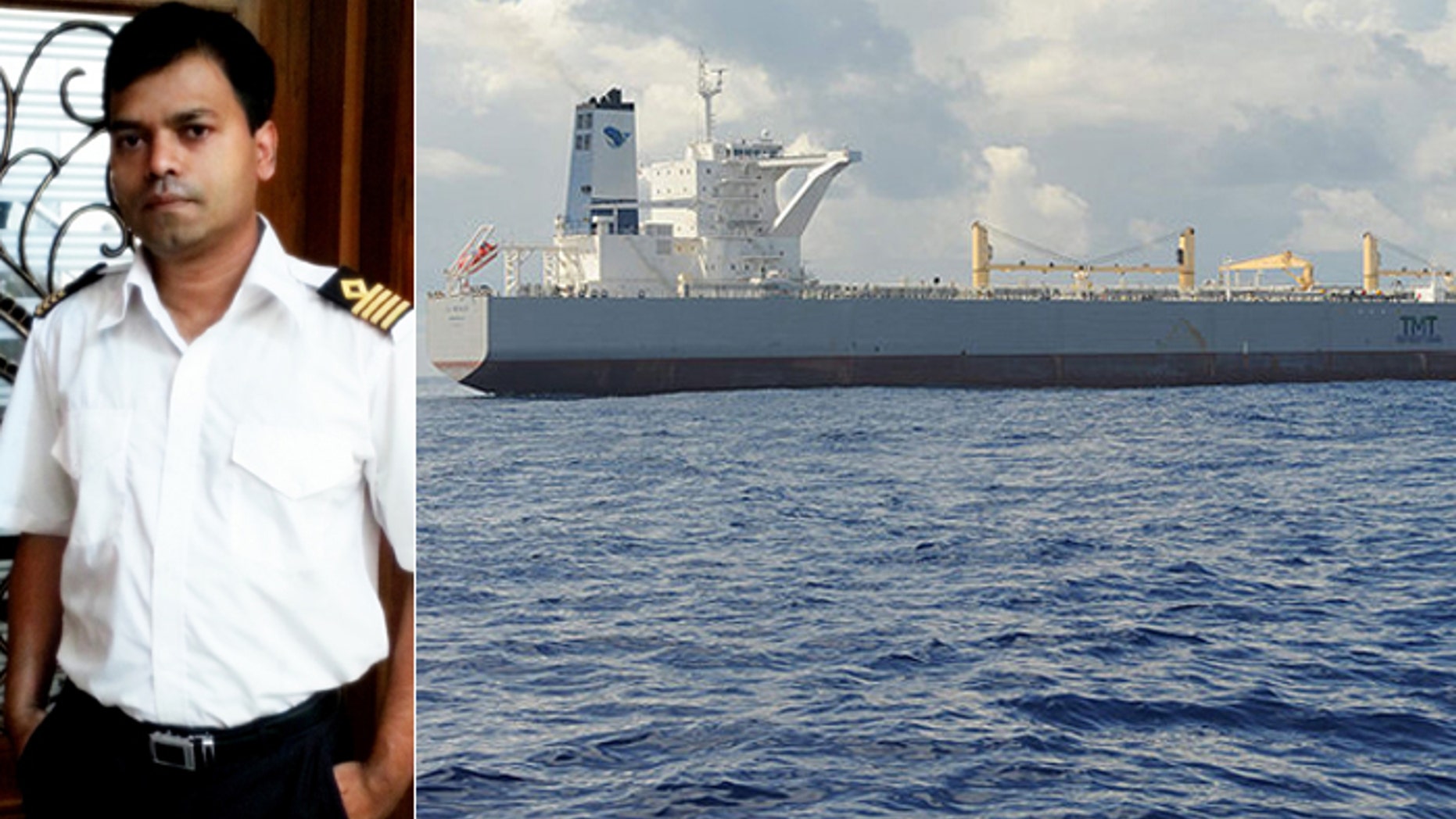 Supplies were dwindling, his 20-man crew had not been paid for months and Captain Khan Jubair Niaz was desperate as his ship drifted aimlessly in the Gulf of Suez.
"We have not committed any crime and yet we are being punished," Niaz wrote in a plaintive email to the Sailors' Society, a 200-year-old, United Kingdom-based nonprofit that specializes in ministering to merchant seafarers. "I just want to go home. I am not interested in money. If I die here on this ship, then money is no good to me."
[pullquote]
Niaz and his crew of Indian and Bangladeshi sailors aboard the Liberian-flagged "A Whale" had been cut off from communications and financial help from TMT Group, which was stuck in bankruptcy proceedings and effectively abandoned the ship. Without financial or logistical backing from its operator, the 1,120-foot oil and ore carrier was unwelcome at ports and unable to buy fuel or food. By June, the men aboard the ship had not been paid in nearly six months.
It's a situation that plays out all too frequently on the high seas, according to industry experts. While executives and lawyers battle in courtrooms around the world, the sailors — often from poor nations in Africa and Asia — are left stranded aboard ships for weeks or even months. Niaz managed to keep his crew from panicking until a U.S. court ruled that Taiwanese creditors pressuring TMT had to allow the company's nearly depleted cash reserves to be tapped to pay for the costs of crewing and fueling the ship. Earlier this week, Niaz was honored by Lloyd's of London, which underwrites shipping throughout the world, as the 2013 "Seafarer of the Year."
Scot Bower, director of media and advocacy at the Sailors' Society, said hundreds of ships can face similar abandonment issues at any given time, citing statistics from the International Transport Workers' Federation. Some cases can be cash flow problems where the sailors are victims of poor economic conditions, while others are victimized by owners who avail themselves to loopholes and scams to avoid accountability.
The International Labour Organization defines abandonment as seafarers whose owners are unable to repatriate them for more than two months, not paying them wages during that period of time or not supplying them with daily necessities within that span.
"It's part of the food chain we ignore and organizations like ourselves highlight the causes of the seafarers and the lifestyles that they face, the loneliness and the isolation," Bower told FoxNews.com.
In the majority of instances, Bower said an abandoned ship is unable to dock and has very little if any access to fuel unless provided by the ship's owner. Other factors include the type of supplies or goods on board and the "good will" of the closest port.
Doug Burnett, maritime partner at Squire Sanders LLP in New York, said such incidents like the one endured by Niaz and his crew are an exception to the rule, but still occur far too often, frequently leaving sailors without options or advocates to represent them in court or against large parent companies.
"Normally, under maritime law, the wages of a seaman are highly protected, but when a ship is put under arrest due to debts that the ships own, when it's ultimately told to a admiralty court, the people who are paid first are the crew," Burnett told FoxNews.com. "But the crew normally doesn't have an advocate for them."
An abandoned ship frequently flies a "flag of convenience," Burnett said, or registering a ship in a state different from that of the ship's owners, as was the case with A Whale. The most popular flags of convenience hail from Liberia, Panama, Belize, Myanmar and the British Virgin Islands, he said.
"When you have flags of convenience, they don't take care of their crew," he said. "You basically get what you paid for. The ship is considered sort of an extension of the country of its flag, but that country may not have the interest or the ability to protect the crew."
With that in mind, Burnett said Niaz, who could not be reached for comment, deserved the annual award.
"When you're the master of the ship, your primary duties are to take care of the ship and the crew, and he obviously did that," he said. "He did everything he could to try and get the crew paid. It ended up being an ungodly amount of time, but anytime you have a situation fairly desperate on a ship, if the captain can maintain order, get them home and get them paid, I think he deserves some kind of an award."
Jan Webber, director of fundraising for the Sailor's Society, told the maritime blog gCaptain.com that Niaz's tale has "no doubt" raised the profile of all abandoned sailors worldwide. Webber, who maintained contact with Niaz during his ordeal, accepted the Lloyd's award on behalf of Niaz on Tuesday.
"Two of the crew had very difficult situations financially," Niaz's speech read. "One had a wife who was about to deliver a baby and another had an elderly mother, both of them were dependents of the crew member wages … There was a shortage of bunkers; water and food were running low. Fighting was also breaking out among the crew out of frustration and tensions."
Scenarios under which ships become abandoned by their operators vary, but no matter the circumstances, the effect on the crew is similar.
"An alarm bell may ring when a month's salary is delayed or an employer fails to provide proper funds for the running of the ship," reads the ITF Seafarers' website. "Perhaps a second or third month will pass with empty promises of pay at the next port.

"Then the nightmare begins," it continues. "Thousands of miles from home, your ship runs into difficulties or is detained by port authorities on safety grounds. The company owning the ship falls out of contact and perhaps into bankruptcy. You may be owed thousands of dollars in wages, and you have no money for a ticket home. The supplies of food, water and fuel on board run out and it becomes clear that the shipowner will not provide even your basic means of survival. You have been abandoned."
While it is rare for crew members to be stuck aboard ships for months, as was the case with A Whale, getting to land in a strange country with no food or money is not much better. When the Tonga-flagged cargo ship Tara's aging engines conked out off the Algerian coast, its owners turned their backs on the ship. Although it limped into port, the 14 crew members, all Pakistani or Indian, survived by begging in the port. Their own nations' embassies refused to help, noting the ship sailed under a foreign flag.
Another ship abandoned in recent years, the Syrian-flagged Al Yassin, became stranded off the Yemeni coast. Crew members, who had not been paid in seven months, could not contact the company that owned the ship, as it listed dangerously for nearly four months in rough seas. Eventually the Pakistani Embassy in Yemen helped get the men to land, though they were never paid, according to the ITF.