Aaron Hernandez's Girlfriend Pleads Not Guilty Of Lying Under Oath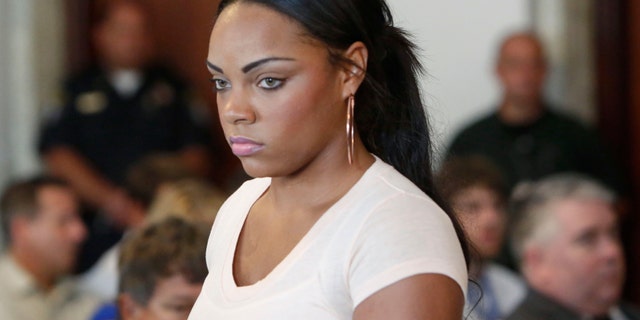 The girlfriend of former New England Patriot Aaron Hernandez has pleaded not guilty to a perjury charge connected to the murder case against him.
Shayanna Jenkins was arraigned Tuesday in Fall River Superior Court and released on personal recognizance.
According to myfoxboston.com, prosecutors said Hernandez called Jenkins from his attorneys office after 27-year-old Odin Lloyd's body was found. They said Jenkins could be seen on Hernandez's home security system going to the basement and removing a box that Hernandez said was important to him. Prosecutors allege that she put the box in a trash bag, covered it with baby clothes, and drove away in her sister's car.
During her arraignment, prosecutors said Jenkins told jurors that she couldn't remember what she did with the box from the basement.
She also reportedly told police that Lloyd was a drug dealer and that Hernandez was present when Alexander Bradley was shot in the face in Florida.
Jenkins' attorney said that prosecutors were extremely aggressive when she went before a grand jury and broke down on the stand. Her attorney said that she and Hernandez had elements of "don't ask, don't tell" in their relationship.
Hernandez has pleaded not guilty to first-degree murder in the death of Odin Lloyd, a 27-year-old semi-pro football player from Boston. He had been dating Jenkins' sister.
Jenkins and Hernandez lived together in North Attleborough, Mass., near where Lloyd's body was found.
Based on reporting by The Associated Press.
Follow us on twitter.com/foxnewslatino
Like us at facebook.com/foxnewslatino