Aaron Hernandez Indicted On Murder Charges In 2012 Double Slaying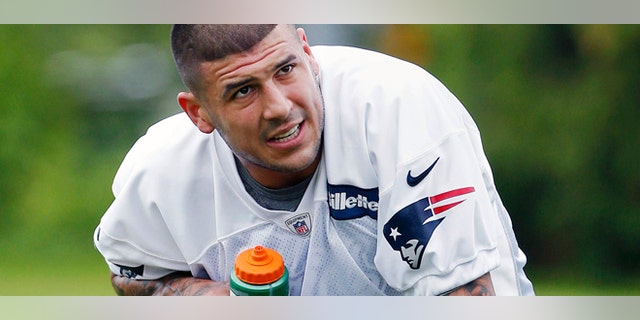 NEWYou can now listen to Fox News articles!
Former New England Patriot Aaron Hernandez has been indicted on two counts of first degree murder in a 2012 homicide that took place in Boston.

Hernandez was also indicted on three counts of armed assault with intent to murder and one count assault and battery with a dangerous weapon.

Suffolk County District Attorney Daniel Conley announced the charges during a press conference Thursday.

Hernandez's cousin, Tanya Singleton, is also charged with criminal contempt of court. Officials said she was granted an order of immunity if she testified truthfully in front of the Grand Jury. They claim she said nothing and so she has been charged.

Hernandez was a suspect in the drive-by shooting that killed 28-year-old Daniel Abreu and 29-year-old Safiro Furtado, friends who lived in the Dorchester section of Boston. Both men are originally from Cape Verde and were employed by the same cleaning company.

The indictment comes nearly one year after Hernandez was charged with the June, 2013 murder of Odin Lloyd in North Attleboro, Mass. Hernandez and two associates are accused of shooting Lloyd near an industrial park near Hernandez's home. Officials said Thursday that Hernandez is expected to stand trial in Lloyd's murder first.

Investigators began looking at Hernandez as a possible suspect in the unsolved Boston double murder only days after Lloyd was killed.

An anonymous tipster provided investigators working on the Lloyd case with information that linked Hernandez to the crime. Around the same time, according to court documents, a Boston Police detective reexamined surveillance images that show Hernandez at the same Boston nightclub as Abreu and Furtado the night they were killed.

Abreu, Furtado and three friends left Cure Lounge in Boston's South End in a BMW driven by Abreu around 2 a.m. Sunday, July 16, 2012.

When the car they were riding in stopped at a light a few blocks away witnesses said two men pulled along side in a light colored SUV and one of the men inside fired multiple rounds at the BMW.

Abreu and Furtado were killed; backseat passenger was shot but survived.

Court documents have indicated that investigators suspect Hernandez was the shooter. The SUV investigators suspect he was driving was found hidden away in a garage at the home of his cousin Tanya Singleton in Bristol, Conn.

The indictment indicates that authorities believe Hernandez killed the men months before the start of the 2012-2013 NFL season. Hernandez played tight end for the Patriots. He signed a $40 million contract with the team in August 2012.

Hernandez is expected to be arraigned at a later date. The families of Daniel Abreu and Safiro Furtado have filed wrongful death lawsuits against Hernandez seeking millions from the former Florida Gator and Bristol, Conn. native.
Follow us on twitter.com/foxnewslatino
Like us at facebook.com/foxnewslatino