Aaron Hernandez: Arrest Warrant Issued For Patriots' Tight End In Connection To Murder Investigation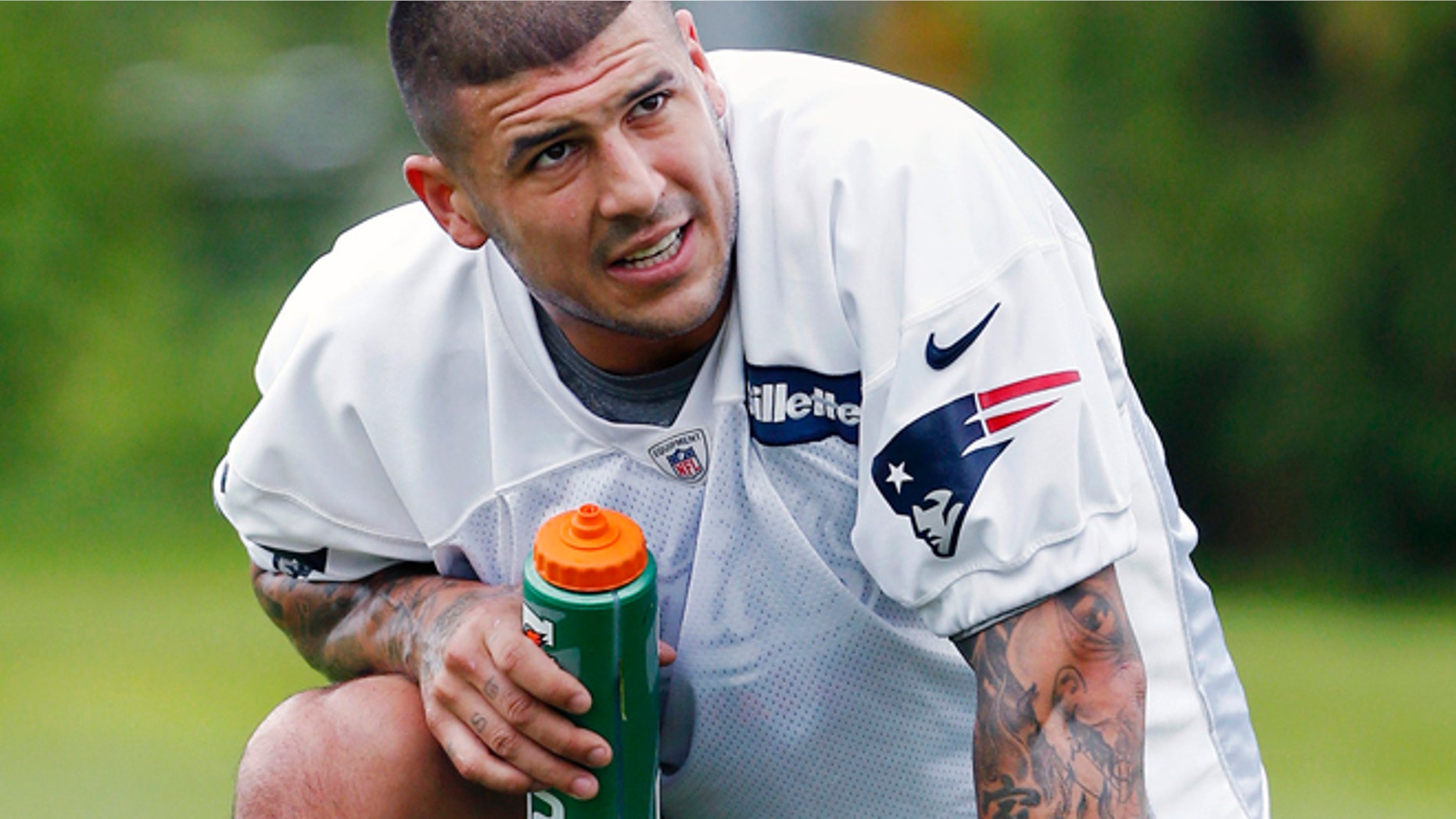 An arrest warrant was issued for New England Patriots tight end Aaron Hernandez in connection with a murder investigation, sources told FOX 25 Boston.
Odin Lloyd, 27, was found dead in an industrial park less than a mile from Hernandez's North Attleboro, Mass., home.
A source FOX 25, the Fox News affiliate station in Boston, that a warrant for obstruction of justice was issued for Hernandez, 23, early Friday morning
On Thursday, FOX 25 sources confirmed that a hard drive to Hernandez's home surveillance system was heavily damaged when state police investigators went to his home earlier this week.
Sources said there was video evidence of Hernandez and two other men wearing hooded sweatshirts walking into Hernandez's home within minutes of neighbors hearing gunshots between 3 a.m. and 3:30 a.m. Monday morning. The sources said neighbors did not report the shots right away.
About an hour before Hernandez was seen on video walking into his home, he was seen at Lloyd's home in Dorchester, according to another source.
Hernandez, Lloyd, and two other men were reportedly at a bar in Boston the night of the homicide, and at some point, the four men left together in a car driven by Hernandez, which was confirmed by a text Lloyd sent another friend, a source said.
State troopers continued to search the area near Hernandez's home Thursday within the Westwood Estates development, as well as the industrial park where Lloyd's body was found.
Among other items, police said they were searching for a silver mirror cover which is believed to have been broken off a vehicle and may be visible along a route of travel between Dorchester and North Attleboro.
The scene at Hernandez's home was active nearly all week beginning Tuesday, when authorities spent three hours inside the football player's home executing a search warrant and came out carrying a large box.
Hernandez was initially linked to the case after an Enterprise rental car rented in his name emerged as a key piece of evidence in the investigation.
Hernandez, a University of Florida graduate and native of Bristol, Conn., was drafted by the Patriots in 2010. He had five touchdowns for the Pats during the 2012 season.
NFL Reaction
Meanwhile, National Football League commissioner Roger Goodell is doing what any leader of a sports league would when one of his players is being investigated in a criminal case.
He's waiting for the legal process to take its course.
Hernandez also was sued Wednesday in Florida by a man claiming Hernandez shot him in the face after they argued at a strip club in February.
As he has done in recent cases, be they high profile — Michael Vick and his dog fighting, for example — or less publicized, Goodell is sitting tight. Innocent before proven guilty.
Should Hernandez be arrested as expected, Goodell could punish him under the NFL's personal conduct policy. But he generally prefers to await the outcome of all legal proceedings.
When Vick admitted to financing a dog fighting operation, Goodell suspended him indefinitely in August 2007. Vick served 18 months in a federal penitentiary, and was reinstated in 2009 when Goodell said the quarterback had shown remorse for his actions.
Vick has stayed out of trouble since and has played for the Philadelphia Eagles the last four years.
Goodell suspended cornerback Adam "Pacman" Jones for the 2007 season under the personal conduct policy after Jones was arrested multiple times. A 2005 first-round draft pick by the Titans who now is with Cincinnati, Jones has been in and out of legal trouble, with at least seven arrests over the years and involvement in about a dozen incidents that included police intervention.
He recently pleaded not guilty to an assault charge after police say he hit a woman at a nightclub. If he is found guilty or accepts a plea bargain, he would be subject to another NFL suspension, perhaps an indefinite one.
"We must protect the integrity of the NFL," Goodell has said. "The highest standards of conduct must be met by everyone in the NFL because it is a privilege to represent the NFL, not a right. These players, and all members of our league, have to make the right choices and decisions in their conduct on a consistent basis."
Packers defensive lineman Johnny Jolly was suspended indefinitely by the NFL before the 2010 season for violating the league's substance abuse policy. Two years earlier, in April 2008, he'd been arrested outside a club in his hometown of Houston for possession of codeine, a controlled substance. He pleaded guilty and was given probation, with the understanding that another misstep would mean significant jail time.
He was arrested again in October 2010, and went to jail for violating probation. Goodell suspended him indefinitely and he has missed the last three NFL seasons, but attended Green Bay's minicamp earlier this month after being reinstated in March.
The Associated Press contributed to this report.
Follow us on twitter.com/foxnewslatino
Like us at facebook.com/foxnewslatino