A tale of 2 inaugurations: Trump vs. Gambia's chaos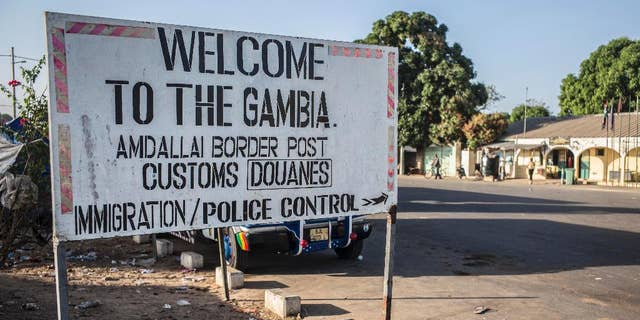 NEWYou can now listen to Fox News articles!
JOHANNESBURG – One inauguration has been planned for months, with a global spotlight and a Washington setting. The other has been announced just hours ahead of time and is taking place outside the country after weeks of chaos.
U.S. President-elect Donald Trump and Gambia President-elect Adama Barrow could not be taking power under more dramatically different conditions. Here's a comparison:
___
IN GAMBIA, CHAOS AND UNCERTAINTY
Barrow's supporters on Thursday announced on Facebook and Twitter that he would be sworn in that afternoon in Gambia's embassy in neighboring Senegal after a political standoff with longtime leader Yahya Jammeh, who refused to step aside after losing December elections.
There was still no word from Jammeh on Thursday, the day his mandate expired, even as a West African regional force gathered on Gambia's borders in a muscular sign of international pressure on him to step down.
Confusion has reigned. Barrow has been in Senegal for days because of concerns for his safety, and he did not even return to Gambia this week to mourn his small son, who was killed in a dog attack.
Just hours before the ceremony, it was still not clear what would happen after Barrow's inauguration or how he would return to Gambia. It also is not clear what might happen to the court challenge to the elections lodged by Jammeh's party.
Above all, what will Jammeh do next?
___
IN WASHINGTON, POMP AND FURY
Trump's inauguration on Friday will be dictated by decades of tradition and encrusted with what Trump calls "the biggest celebrities in the world."
There's a parade of more than 8,000 people down Pennsylvania Avenue, a brief oath and a speech. A whirlwind of formal balls will follow. Even the high-kicking Radio City Rockettes are planned. But it's not clear if Trump's inauguration will draw anything near the 1.8 million people who attended Barack Obama's first inaugural.
If there's a note of chaos as the day moves forward, it will be the protests expected by those Americans still furious at Trump's election win.
One thing is certain: While Hillary Clinton is expected to sit on the inaugural platform alongside husband and former president Bill Clinton, it's highly unlikely that Gambia's Jammeh will suddenly emerge and attend Barrow's slapdash ceremony.