A blow to Chinese bank secrecy? Bank of China ordered to disclose counterfeiters' records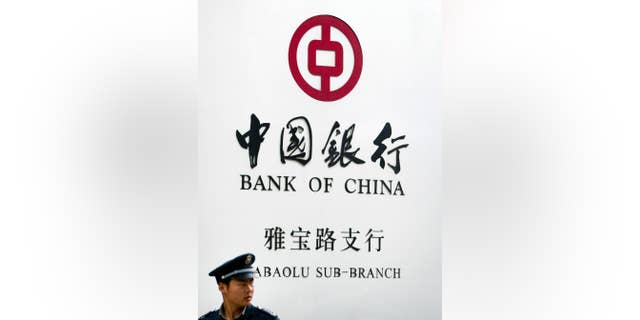 SHANGHAI – A New York judge has ordered the Bank of China to hand over detailed information about Chinese bank accounts used by a counterfeiting ring that allegedly sold millions of dollars of fake Gucci handbags and wallets in the U.S.
The decision could have far-reaching impact on the ability of U.S. courts to extract information about criminal activity from Chinese banks, which serve as safe havens for counterfeiters and money laundering on a large scale, investigations and lawsuits in the U.S. and Europe show.
Chinese banks have put up a fierce fight, claiming that such disclosures would be an affront to China's sovereignty. The case has drawn political attention from both sides, prompting inputs from both the Chinese Embassy in Washington and the U.S. Justice Department.
At stake are fundamental questions about whose rules Chinese banks operating in the U.S. must play by. Major state-run Chinese banks are frequently used by counterfeiters to move their ill-gotten gains beyond the reach of Western law enforcement, the Associated Press showed in an article this year.
China's financial system is also used to launder money, both by members of the Chinese diaspora and criminal groups of other nationalities, lawsuits and investigations in Europe and the U.S. show. Yet under China's legal system, it's difficult to get detailed banking records that can help investigators trace the flow of criminal profits and to freeze illicit funds.
In the Gucci case, U.S. District Judge Richard Sullivan ruled that U.S. courts have jurisdiction over the Bank of China, which has four branches in the United States and claims to be the top choice for U.S. dollar wire transfers to and from China. Underlying his decision was a stinging dismissal of China's legal system and existing international mechanisms for judicial information sharing.
"Forcing Gucci to initiate this process in China would be significantly less efficient, extremely time consuming, and potentially fruitless," he wrote in the Sept. 29 order.
The decision, which could be appealed, may "be helpful to other plaintiffs that want this type of information from the Bank of China in the future," said Dan Plane, an intellectual property lawyer in Hong Kong not involved in the litigation.
But he cautioned that any victory, should the judgment stand, could prove hollow. The Bank of China is likely to disclose as little information as it can, while comforting its own customers with information about how to mitigate risks that may arise from disclosure, he said.
"It gets you over the initial hump, but there are still going to be challenges, particularly in actually collecting a damages award," he said. "The biggest question of all is: Are you ever going to be able get your hands on counterfeiters' funds in the control of Chinese banks?"
Geoffrey Potter, an intellectual property lawyer at New York's Patterson Belknap Webb & Tyler, said banks are a necessary part of counterfeiting, so compelling them to turn over information could be a positive step in the fight against counterfeiting.
To the extent that the banks can now be compelled to reveal banking records of their clients' accounts when it's shown their clients are selling counterfeits in the United States, it will be much more difficult for those counterfeiters to do business."
But even if Gucci ultimately gets the information it wants from the Bank of China, it is likely to hit a legal firewall when it tries to collect damages, should any be awarded.
Tiffany & Co., which has been mired in litigation of its own against Chinese counterfeiters, offers an instructive lesson. In two recent cases, Tiffany won large default judgments, one in June for $52.3 million and the other in September, for $26.5 million.
Now Tiffany faces the tricky task of actually collecting the funds from the defendants, none of whom bothered to show up in court. Most are believed to be beyond reach, in China, where U.S. court judgments have no sway.
Tiffany and Gucci declined to comment. Bank of China lawyer Andrew Rhys Davies did not respond to a request for comment.