8 skinheads questioned in deadly Paris brawl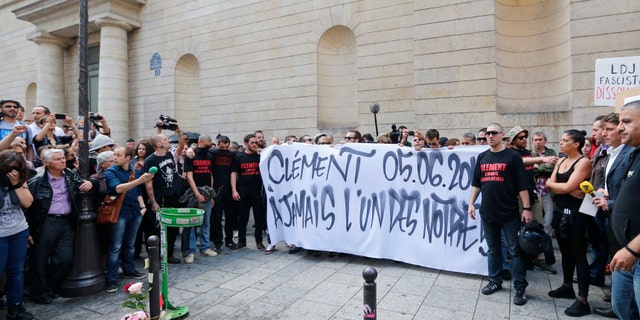 NEWYou can now listen to Fox News articles!
PARIS – For years they operated in the shadows, but militant extreme-right groups have become increasingly visible in France.
Since the death of a university student this week in a melee between skinheads and militant leftists, the French government says it wants to ban extreme-right groups -- a complex task complicated by the hydra-like nature of the hard-core right.
Five people linked to extreme-right groups were still being questioned Friday in the student's death in Paris, according to the prosecutor's office. Eight had been initially held.
An autopsy was being done Friday on the body of 19-year-old Clement Meric, a student at Sciences Po, one of France's most prestigious universities. He died in the hospital after the clash Wednesday.
Investigators are trying to establish whether the suspect who reportedly delivered the deadly blow belongs to the Revolutionary Nationalist Youth, a far-right group led by long-time extremist Serge Ayoub, or another extreme-right movement.
Ayoub -- a former skinhead nicknamed "Batskin" -- denied on BFM-TV that those in the clash were part of his organization but conceded they quickly contacted him for advice after the brawl.
"They're panicking. Of course they regret it," he said.
French television later showed him emerging from a police station, reporting he had been questioned as a witness in the case because of the alleged ties to his group among some of those held.
What triggered the confrontation remains unclear. But the student's death spurred an outpouring of indignation, finger-pointing among politicians and calls for authorities to ban extreme-right groups.
Extreme-right groups have gained attention in numerous European countries, particularly Greece, where the Golden Dawn party, broadly vilified for alleged Nazi sympathies and violence against immigrants, holds seats in parliament.
France's rejuvenated far-right party, the National Front, has been excluding jack-booted extremists from its ranks but worries about a rise in independent movements.
The government "will do everything to dissolve these groups," Interior Minister Manuel Valls said, adding it "takes time" to establish the facts and show cause.
An expert on the extreme right, Nicolas Lebourg of the University of Perpignan, said the structure of groups complicates the situation.
"Movements are subdivided into several movements. That helps avoid dissolution by the government," he said by telephone.
Ayoub, for instance, heads the Revolutionary Nationalist Youth group, which is linked to his other movement, the Third Way. He also heads another spinoff, the Popular Solidarity Front, which supports militant worker action, and even did some politicking before last year's presidential race.
The extreme right -- to the right of the National Front party -- was a powerful force in France, veritable armed militias, in the 1930s. "Groupuscules," or tiny groups, of extreme rightists were known for violence two decades ago. Then they all but disappeared from the French landscape until the National Front party began a purge of extremists as part of its progressive image change under its new leader, Marine Le Pen, to become more palatable to voters.
"The National Front once welcomed everyone," Lebourg said. But in trying to normalize, the party pushed out the jackboot-clad radicals. Extreme-right "groupuscules" increased and "hardened," he said.
In recent months, extreme-right groups became a visible part of the massive French protests against gay marriage, which was legalized here in May.
Lebourg estimates there are some 3,000 extreme-rightists in France, a mixed bag of ideologies that include anarchists, anarchist-royalists and the non-violent Identity Bloc, a group opposed to Muslim immigrants and the European Union.
Ayoub actually serves a purpose among hotheaded extreme-rightist youth, Lebourg said.
He "talks very tough but he provides down-and-out youth with a framework," Lebourg said. "He always poses with a baseball bat ... but he doesn't practice that. It's theater, Hollywood with a little budget."