6 Killed as Violence Returns to Streets of Sanaa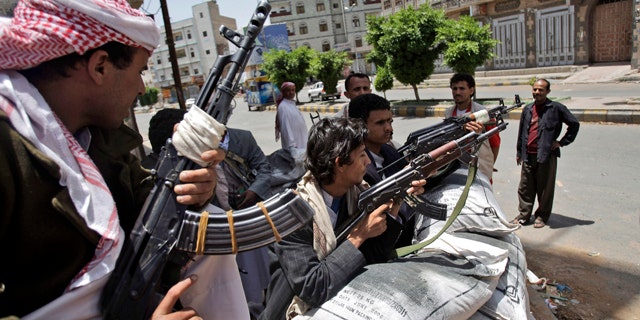 NEWYou can now listen to Fox News articles!
SANAA, Yemen -- A cease-fire in Yemen's capital was at risk of unraveling Monday as regime supporters opened fire on opposition fighters in renewed clashes that killed at least six. The violence raises fears over the potentially explosive situation after the wounded President Ali Abdullah Saleh left the country, leaving a deep power vacuum.
Saleh's departure over the weekend brought celebrations by the crowds of protesters who have been trying for months to oust him after nearly 33 years in power. But so far Saleh seems determined to return and continue to wield power after he underwent surgery in neighboring Saudi Arabia for wounds suffered in a rocket attack on his compound.
In his absence, opposition parties were trying to quickly lock Yemen into a post-Saleh transition, pressing for the revival of a U.S.- and Saudi-backed initiative. Under the deal, Saleh would officially step down, a unity government between his ruling party and the opposition would be formed and new presidential elections held within two months.
But in the past weeks, Saleh refused three times to sign the deal, and officials in his regime said Monday nothing could be done without his approval, even while in Saudi Arabia.
And Saleh still has a powerful presence on the ground to back his hand: his sons and nephews, who command Yemen's strongest military units and who remain in the country. Their forces remained deployed around Sanaa on Monday, locked in a tense standoff with the tribal fighters who rose up two weeks ago to oust Saleh. The fighting rocked the capital, killing dozens, until a cease-fire was brokered by Saudi King Abdullah as Saleh flew for treatment.
Saleh remains the "unchallenged" president of the republic, Deputy Information Minister Abdu al-Janadi said Monday. "Saleh is on medical treatment trip and he will return as soon as he can to Yemen."
Amid the uncertainty, the cease-fire appeared shaky.
Gunmen -- apparently pro-Saleh forces -- attacked tribal fighters loyal to Sheik Sadeq al-Ahmar on Monday, killing three tribesmen, al-Ahmar's office said. The shooting took place in the Sanaa district of Hassaba, where al-Ahmar's residence is located and which has been the epicenter of the past two weeks of fighting.
Late Sunday, pro-government gunmen opened fire on a checkpoint manned by a military unit that defected and joined the opposition, an officer from the unit said. In the clash, two of the attackers and one of the unit's soldiers were killed, the officer said, speaking on condition of anonymity because he was not authorized to talk to the press.
The president's absence raised the specter of an even more violent power struggle between the armed tribesmen and loyalist military forces under the command of Saleh's son Ahmed and other close relatives.
Hassaba remained tense, with government forces dug in despite promises under the cease-fire that they would pull back from their positions. Residents trying to return to their homes in the neighborhood were forced back by snipers firing from rooftops, another pro-opposition military officer said. While unable to enter the district, an Associated Press reporter who reached the edges could see broken electricity pylons and shops and buildings pockmarked by mortar shrapnel.
Vice President Abed Rabbo Mansour Hadi, who is acting leader in Saleh's absence, was meeting for a second time Monday with top security officials in an attempt to arrange a cease-fire that would hold, government officials said.
In a sign of his determination to return, Saleh refused to sign a presidential decree formally handing his power to Hadi before his departure.
Many Yemenis feared Saleh, a masterful political survivor, would yet return -- or leave the country in ruins if he cannot. Hanging in the balance was a country that even before the latest tumult was beset by deep poverty, malnutrition, tribal conflict and violence by an active al-Qaida franchise with international reach.
Saleh underwent successful surgery on his chest to remove jagged pieces of wood that splintered from a mosque pulpit when his compound was hit by rockets on Friday. He was being treated in Riyadh, the Saudi capital.
The stunning rocket attack, which the government first blamed on tribal fighters and later on al-Qaida, killed 11 bodyguards and seriously injured five senior officials worshipping at Saleh's side. Both government and opposition officials say Saleh is expected to remain in Saudi Arabia for two weeks, one for treatment and another for meetings. What happens then is unknown.
A crucial question is whether Saleh's Saudi hosts want him to return. The Saudis backed Saleh and cooperated in confronting al-Qaida and other threats, but they are now among those pressing him to give up power as part of a negotiated deal. Saudi Arabia is eager to contain the unrest on its doorstep.
Yahia Mansour Abou-Osba, leader of the opposition coalition the Joint Meeting Parties, said his side was waiting for the vice president to approach them for talks on what comes next.
The opposition wants to implement parts of the plan mediated by Gulf Arab nations, including Saudi Arabia. Originally that plan called for Saleh to hand over power to his vice president in 30 days after signing to allow formation of a new government and the holding of presidential elections.
The power handover has now effectively taken place, so now the rest of the deal can be implemented, Abou-Osba and other opposition leaders argue.
Yemen's unrest began as a peaceful protest movement that the government at times used brutal force to suppress, killing at least 166 people, according to Human Rights Watch. It transformed in the past two weeks into armed conflict after the president's forces attacked the home of a key tribal leader and one-time ally who threw his support behind the uprising. The fighting turned the streets of the capital into a war zone.
Other forces aligned against Saleh at the same time. There were high-level defections within his military, and Islamist fighters took over at least one town in the south in the past two weeks.
In Taiz, Yemen's second-largest city, dozens of gunmen attacked the presidential palace on Sunday, killing four soldiers in an attempt to storm the compound, according to military officials and witnesses. They said one of the attackers was also killed in the violence. The attackers belong to a group set up recently to avenge the killing of anti-regime protesters at the hands of Saleh's security forces.
Elsewhere in the south, gunman ambushed a military convoy, killing nine soldiers, officials said. They spoke on condition of anonymity because they were not authorized to talk to the media.
------
Associated Press writers Sarah El Deeb and Ben Hubbard in Cairo, and Abdullah al-Shihri in Riyadh, Saudi Arabia, contributed to this report.