6 dead as female suicide attacker explodes bomb on Russian bus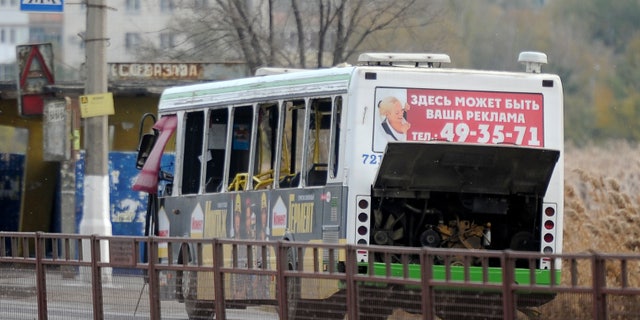 NEWYou can now listen to Fox News articles!
MOSCOW – A female suicide bomber blew herself up on a city bus in southern Russia on Monday, killing six people and injuring about 30 others, officials said. The attack in Volgograd added to security fears ahead of the Winter Olympics in Sochi.
The suspected bomber was from the North Caucasus, a region in southern Russia where an Islamic insurgency has been simmering for more than a decade following two separatist wars in Chechnya.
Volgograd lies some 400 miles to the northeast of the North Caucasus, while Sochi sits to the west along the Black Sea. No one immediately claimed responsibility for Monday's suicide bombing, but it was the first outside the North Caucasus since Chechen rebel leader Doku Umarov three months ago called for a resumption of attacks on civilians and urged militants to target the Sochi Games.
Russia in past years has seen a series of terror attacks on buses, airplanes and other forms of transportation, some of them carried out by suicide bombers. The last suicide attack on a bus was in 2008.
Twin bombings on the Moscow subway in 2010 carried out by female suicide bombers killed a total of 40 people and injured more than 120. In January 2011, a male suicide bomber struck Moscow's Domodedovo Airport, killing 37 people and injuring more than 180.
Umarov, who had claimed responsibility for the 2010 and 2011 bombings, ordered a halt to attacks on civilian targets because of the mass street protests against President Vladimir Putin in the winter of 2011-12. He reversed this order in July.
The suspected bomber was from Dagestan, one of the predominantly Muslim republics in the North Caucasus, said Vladimir Markin, the spokesman for the Investigative Committee, Russia's main investigative agency.
In a statement, he identified the suspect as 30-year-old Naida Asiyalova.
In Dagestan, the center of the insurgency, bombings and shootings occur almost daily. Most of them target law enforcement officers, not civilians. The Tsarnaev brothers, accused of carrying out the Boston Marathon bombings, have roots in Dagestan and Chechnya.
Video broadcast on state Rossiya television showed that Monday's explosion occurred as the bus was moving in the far right lane of a divided six-lane road. The video, taken from a vehicle traveling behind the bus, showed a burst of flame and gray smoke. Fragments of what appeared to be window frames and other parts of the bus were left scattered across the road.
When the bus came to a stop, the video showed many passengers jumping out.
Markin said seven people died, including the suicide bomber, and 33 asked for medical assistance, 28 of whom were hospitalized. Emergency officials said about 40 people were on the bus.