50 Years After Missile Crisis, Brothers on Opposite Sides of Fidel Tell Their Story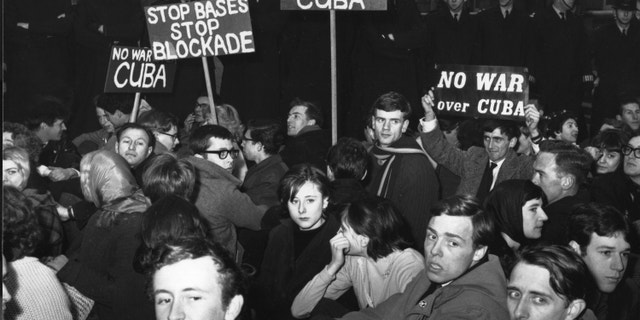 MIAMI – Julio Castro sat at his uncle's Miami home as President John F. Kennedy came on the television the night of Oct. 22, 1962, to tell the nation the Soviet Union was building launch sites for nuclear missiles in Cuba capable of reaching almost every city in the Western Hemisphere.
Castro had fled the Caribbean island earlier that year, and his parents and siblings were still there. He'd joined the U.S. Army in August, thinking that with the help of a superpower, he and the growing contingent of exiles in Miami could defeat the communists who had taken control nearly four years before.
I thought they were rockets to defend the country, not attack
Now the world was on the verge of a nuclear war. Castro stood ready for his orders, ready to do anything to secure the United States and free his family. Even kill.
Ninety miles away, his brother was prepared to do the same.
Unbeknownst to one another, Julio and José Castro had both enlisted in the military, the older brother with the United States, the younger with Cuba. As the U.S. and the Soviets inched closer to catastrophe half a century ago this month, one brother stood in the trenches watching Soviet troops set up outside Havana, while the other awaited orders in Miami.
Each well knows what may have happened had Kennedy heeded some advisors' call to invade Cuba.
And each knew his role.
"War is war," says Julio Castro, now 71.
If it comes down to it, his 69-year-old brother says in Spanish, "you fire at the enemy."
Growing up before the revolution, the brothers shared a close bond.
As a teenager, Julio Castro remembers enjoying the delights of Havana: He would go around the city in his red Austin Healey coupe and hit the clubs with friends. His brother imagined doing the same when he was old enough.
Not everyone in Cuba lived such a life. Under Fulgencio Batista's rule, the gap between rich and poor grew wider and corruption was rampant. Suspected dissidents were killed. The boys' own grandfather, a congressman who belonged to an opposition political party, was followed and harassed.
Inside their own household, there was joy and discontent when Fidel Castro, who is not related to them, and the revolutionaries marched triumphantly into Havana and took control of the government in 1959. Their father, who had studied philosophy, liked the ideas of socialism. Their mother, on the other hand, was startled by the firing squad executions of former Batista officials and many others shown on television.
So was her oldest son.
"Cuban killing Cuban, this is not right," Julio Castro remembers thinking.
José Castro was also starting to develop a political consciousness of his own. He'd been asked to leave his Catholic school after joining a student revolutionary group, and because he was still too young for most jobs, his options were limited. His father found him work at a clothing factory, and it was there, speaking and meeting the workers, that he began to see another side of life in Cuba: The plight and exploitation of the underclasses.
"It was a world I didn't know," he recalls.
At night, when they met at home, the two young men refrained from discussing their political differences. But they increasingly led separate lives.
José Castro joined a union and pledged to enlist in the new government's revolutionary army, which was no small commitment.
In order to join up, José had to complete a 38-mile walk to prove his stamina. He bought a pair of comfortable shoes and prepared for the trek.
Before he left, his mother came into his room.
"I know you're going to walk," she said. "But I wish you wouldn't."
He looked at his mother, wishing he could say something to console her, but knowing that his mind was firm.
"I'm going," he said. "I've already promised to do it."
His older brother, meanwhile, had begun making arrangements to leave Cuba in the months after the battle at the Bay of Pigs, in which the Cuban military routed an invading brigade of American-trained Cuban exiles.
Julio Castro applied for a student visa with the help of an uncle in Miami, not telling his brother or his father. If either knew, he feared it could put his exit in jeopardy or endanger the entire family. So on a January day in 1962, he left for the airport alone in a taxicab, without saying goodbye to anyone.
As he worked his way through an inspection at the airport, a member of the revolutionary guard, a young man from their neighborhood, recognized him.
"Julito, where are you going?" he asked.
Julio Castro went cold.
"I'm going to the United States," he replied.
"And your father knows that?" the man asked.
"Yes," he lied.
The guard paused, weighing the likelihood of Julio's response.
"Have a good trip," he said.
Ten months after his arrival, on Oct. 14, 1962, a U.S. Air Force U-2 spy plane flew over Cuba and took photographs of Soviet missile bases under construction on the island. Several U.S. officials argued for an immediate invasion of Cuba, but Kennedy doubted that was the best approach.
Ninety miles away, José Castro received orders to help guard a Soviet base in a wooded area; while he was told there were missiles inside, Castro never saw them himself. He was assigned to stand in the trenches outside, and could see the Soviets enter and leave the base.
"I thought they were rockets to defend the country, not attack," he says.
On Oct. 22, Kennedy went on television and informed Americans of the impending nuclear threat. Any attack from Cuba in the Western Hemisphere would require "full retaliatory response upon the Soviet Union," he said.
Julio Castro, in Miami, watched in anticipation. He had already agreed to participate in Operation Mongoose, another CIA plot to remove Fidel Castro and the communist regime from power. As the missile crisis unfolded, he was awaiting his orders to be sent for bacterial, chemical and nuclear training at Fort Knox in Kentucky.
"My goal was to secure this nation," Julio Castro says. "That was the number one goal. Secure the nation and then try to liberate my brother."
As the crisis escalated, the U.S. prepared for war. B-52s and intercontinental ballistic missiles were prepared to launch at a moment's notice. Soviet and U.S. diplomats went back and forth, seeking a peaceful solution. Finally, on Oct. 27, Kennedy agreed to remove missiles in Italy and Turkey in exchange for the Soviets dismantling and removing the nuclear weapons in Cuba.
José Castro was sent back to the factory, where he had continued working, not yet a full member of the military. Julio Castro was shipped the next month to Fort Knox, where, even after the crisis was averted, he worked on Operation Mongoose and hoped to overthrow the communists.
Neither knew how close he had to come to fighting against his brother.
José Castro spent 30 years in the Cuban military. His mother and two sisters left the island and joined his older brother in the United States during that time.
He wasn't allowed to communicate with them, under a rule he could not have contact with the "enemy."
Everyone in the United States was considered an enemy.
"My family is not the enemy," he thought.
Still, he knew vague details of their lives. His mother kept in contact with his wife, and sent him One A Day vitamins that he took for decades, even when he was sent to Angola. (Cuban troops were used to bolster the African country's then-communist government against rebels for more than a decade beginning in the mid-1970s.)
When his military service was over, José Castro entered the civilian workforce. It was there that he began to see another side of the revolution. He didn't have the benefits given to members of the military anymore - food and vacations for his family and rides to work. He and his family lived in a modest apartment with furniture his mother had bought in the 1950s.
In 2004, more than 10 years after retiring from the military, José Castro was granted permission to leave the country.
His older brother picked him up at the airport in Miami.
They hugged each other and cried.
"Welcome to the land of liberty," Julio Castro said.
In some ways, José Castro grew up to be more like his big brother than he might have known. Both served in the military and both became civil engineers. These days they even work on projects together.
Though Cuba's communist leaders remain at odds with the U.S. 50 years later, both governments have eased their policies, allowing more interaction between Cubans on either side of the Florida Straits.
For Julio Castro, the Cold War still remains, the mission he wanted to accomplish only half complete. The family is reunited, though in a different country than they had hoped to be.
"My brother and me, we made peace," he says. "We made peace with each other because we are family. There is no tension because there is love."
Based on reporting by The Associated Press.
Follow us on twitter.com/foxnewslatino
Like us at facebook.com/foxnewslatino