5 injured in Spain's Pamplona running of the bulls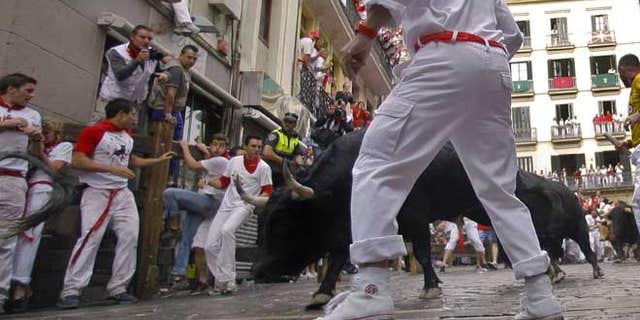 PAMPLONA, Spain – Officials say one thrill-seeker was gored in a leg and four others slightly injured as thousands of adrenaline-fueled runners raced ahead of six fighting bulls in the streets of the northern Spanish city of Pamplona in the first running of the bulls in this year's San Fermin festival.
Red Cross spokesman Jose Aldaba said a youth was dragged several yards (meters) along the ground as a his shirt was caught on one bull's horn but was otherwise unharmed, while the gored runner was taken to Navarre Hospital and four others were treated for cuts and bruises.
Runners, in traditional white clothing and red kerchiefs around their necks, tripped over each other or fell in the mad daredevil annual rush along slippery streets to the city's bull ring on Saturday.