5 Detained in Attack That Killed 52 in Mexico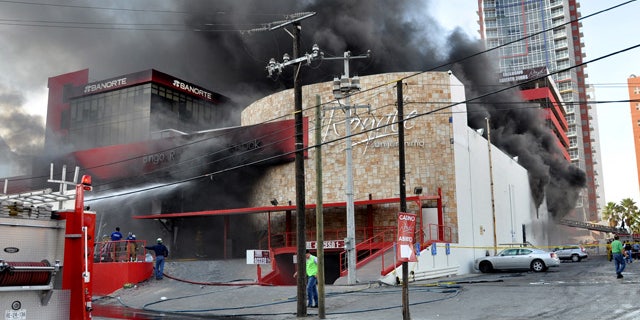 MONTERREY, Mexico – Police in northern Mexico have arrested five alleged members of the Zetas drug cartel suspected of setting a casino fire that killed 52 people, authorities said Monday.
Nuevo Leon state Gov. Rodrigo Medina said police are looking for two other suspects.
The five men, aged 18 to 37, have confessed to participating in the attack Thursday at the Casino Royale and of belonging to the Zetas drug cartel, the governor said, and some had been arrested before for kidnapping or extortion.
Police are investigating whether the attack in the city of Monterrey was in retaliation for not paying extortion money.
The attack "was directed at the casino, not at the people," Medina said in at a news conference where he also showed a video where two men are seen at filling large jugs with gasoline at a gas station near the crime scene.
Another surveillance tape of Thursday's fire shows eight or nine men arriving in four cars and carrying canisters into the Casino Royale. In little more than two minutes, the casino is in flames and choking black smoke churns from the building.
According to witnesses, the gunmen burst into the casino and shouted for people to get out, saying they were burning the place down. But people ran farther inside the building and many were found dead from smoke inhalation in offices and bathrooms.
President Felipe Calderon has offered a $2.4 million reward for information leading to the capture of the casino's attackers, an amount comparable to rewards offered for the arrest of the country's top drug lords.
The attack shocked Mexicans in part because most of the victims were middle class women who frequented the casino with friends.
On Sunday, hundreds of people clad in white held signs demanding an end to the violence, as well as the resignation of the governor and Monterrey's mayor.
The city has seen a spike in drug violence since the split last year between the Gulf and Zetas drug cartels. The fight has left more than 1,000 people dead so far this year in Nuevo Leon state, compared to 828 in 2010 and 267 in 2009.
Nationwide, more than 35,000 people have been killed in drug-related violence since President Felipe Calderon launched an offensive against drug gangs in late 2006, according to the government. Others put the death toll near 40,000.