47 killed in Libya clashes between rival militias over Tripoli airport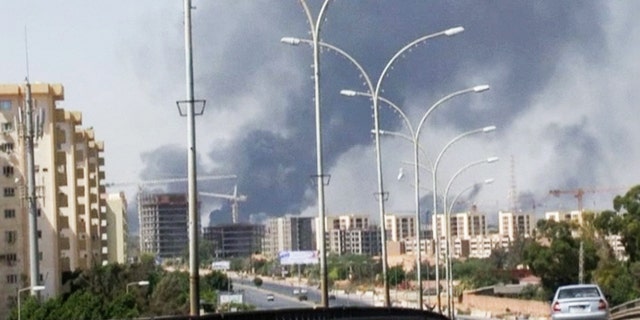 NEWYou can now listen to Fox News articles!
CAIRO – Clashes between rival Libyan militias fighting for control of the international airport in the capital, Tripoli, have killed 47 people over the last week, Libya's Health Ministry said.
The ministry said on its website late Sunday that the fighting also left 120 people wounded. It also said it had not yet received the full casualty report.
The weeklong battle over the airport is being waged by a powerful militia from the western city of Zintan, which controls the facility, and Islamist-led militias, including fighters from Misrata, east of Tripoli. The clashes resumed Sunday after cease-fire efforts failed.
Television footage broadcast Sunday showed a mortar shell striking a Libyan Arab Airlines plane and a column of black smoke billowing from inside the airport, which has been closed since last Monday.
Libya is witnessing one of its worst spasms of violence since the ouster of longtime dictator Moammar Gadhafi in 2011. The rival militias, made up largely of former rebels, have forced a weeklong closure of gas stations and government offices.
In recent days, armed men have attacked vehicles carrying money from the Central Bank to local banks, forcing their closure. The Central Bank had said banks would reopen Sunday, but then remained closed as the fighting resumed.
Libyan government officials and activists have increasingly been targeted in the violence. Unknown gunmen kidnapped two lawmakers in the western suburbs of Tripoli on Sunday, a parliament statement said, and urged the government to intervene to free them.
Last Thursday, a female lawmaker in a liberal-leaning political bloc in the outgoing parliament, Fareha al-Barqawi, was killed in the eastern city of Darna. The motives behind the killing were not known, but such targeted killings rampant in Libya over the past two years have been blamed on the militias, which successive governments have struggled to control.
In the past two days in Benghazi, Libya's second-largest city, gunmen killed an army officer while he was driving home in his car, and a former special forces officer was shot dead in the downtown Salmani district.
The U.N. Support Mission in Libya said last week it was temporarily withdrawing its staff because of the deteriorating security situation.