4 stolen paintings found in South Africa cemetery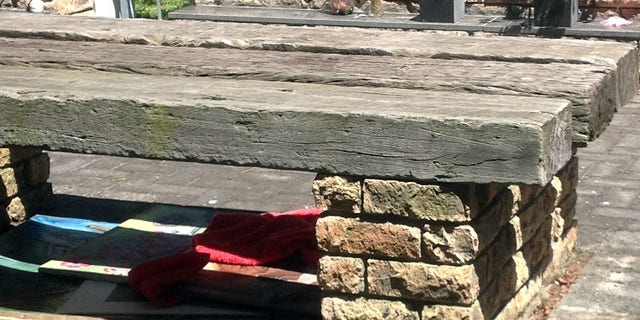 JOHANNESBURG – An informer's tip led South African police to a private cemetery Tuesday where they found four paintings hundreds of miles away from where they had been stolen from a museum in the capital, authorities said.
The tip is the latest twist in a heist that saw $2 million worth of art stolen Sunday from the Pretoria Art Museum by pistol-wielding thieves posing as eager students with their teacher. One oil painting of a South African township streetscape by artist Gerard Sekoto remains missing.
A canine officer received a tip from an informer Tuesday that led him to a private cemetery in Port Elizabeth, a city about 1,100 kilometers (700 miles) from Pretoria, said Brig. Marinda Mills of the South African Police Service. There, under a bench near a memorial wall with plaques naming the dead, officers found four of the missing five pieces of art, she said.
Mills said police had started to verify that the paintings found, all in good condition, were the originals.
"From a layman's perspective, it appears to be the missing art," she said.
No arrests have been made, but officers continue to investigate in the area in hopes that the other stolen painting may be nearby, Mills said. The missing Sekoto painting, an oil pastel on canvas image of township life, is worth about $800,000, authorities say.
The theft Sunday at the Pretoria Art Museum saw robbers calmly pay for tickets and ask a curator to show them specific paintings at the gallery before they pulled out pistols and forced all others to the ground, officials said. They tied up the curator and others before collecting the paintings they previously asked about, officials said.
The robbers left behind another oil painting showing two musicians because they were not able to fit the painting inside their getaway car, a silver sedan, authorities said. The thieves left as private security guards at the museum drew close to them.
The museum closed Monday for the week and removed its most valuable remaining possessions for safekeeping. Authorities say they now plan to increase security to prevent thefts there. However, the video surveillance cameras at the museum had stopped working on Thursday, city spokesman Pieter de Necker said.
Violent crime and murders remain common in South Africa, but high-profile art thefts are not as common. In February 2011, thieves stole four small, limited-edition prints by South African artist William Kentridge from a gallery in Johannesburg. Thieves also have targeted bronze statutes in other South African museums, with authorities believing they are actually then sold for their scrap metal value.
Art theft is the third most lucrative crime in the world, after drugs and illicit arms sales, according to Interpol and the FBI. However, selling famous works remains difficult for criminals either locally where the theft happened or abroad, authorities say. Despite the challenges, estimates suggest there are billions of dollars made in stolen art sales annually across the world.