4 seriously injured in Canada double-decker bus accident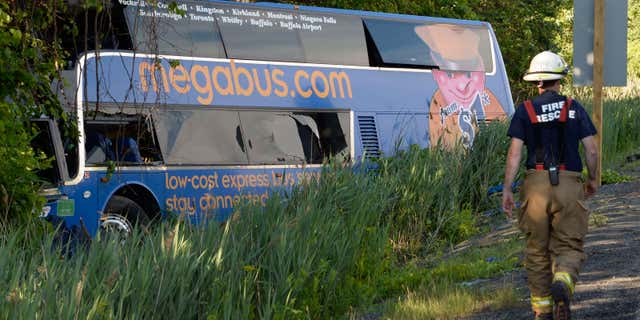 NEWYou can now listen to Fox News articles!
LANCASTER, Ontario – A double-decker bus collided with a tractor-trailer Tuesday on a major highway in eastern Ontario, injuring at least 23 people, four of them seriously.
About 45 passengers were on the bus traveling between Montreal and Toronto, police said. Paramedics and firefighters tended to many of the injured at the scene while those who were not hurt were shuttled to an arena in nearby Williamstown, Ontario.
Four people, including a teenage boy who had to be airlifted to a hospital, suffered serious injuries, Ontario Provincial Police Sgt. Kristine Rae said in an interview. Nineteen others were hospitalized with minor injuries.
"It was a really horrific experience," said Max Kelly, who was watching a movie on his laptop in the upper level of the bus when the crash occurred. "There was a woman who was pinned, who was screaming, she was sitting at the front ... total panic and chaos," Kelly said Tuesday evening. He said rescuers used the jaws of life to get her out of the bus.
Kelly said the bus was tilting and moving fast into a ditch as trees smashed windows. The bus didn't fall on its side, but came to rest leaning against a tree, Kelly said. Photos showed the tractor-trailer with a badly damaged back end.
Megabus.com spokesman Sean Hughes confirmed one of their vehicles was involved, but had no further details about the crash. He said the bus company was fully cooperating with authorities investigating the crash.
Rae said there was initially "some confusion" about the number of people hurt — with police tweeting at one point that four people had been airlifted to a hospital and 15 had been injured. Police later revised their account.
The collision shut down a stretch of the westbound lanes of Highway 401, the main artery through the region, for three hours.
Megabus.com, a subsidiary of Paramus, New Jersey-based Coach USA, is one of the largest private providers of city-to-city express bus transportation.