4 Ebola patients in Congo missing after treatment center is set on fire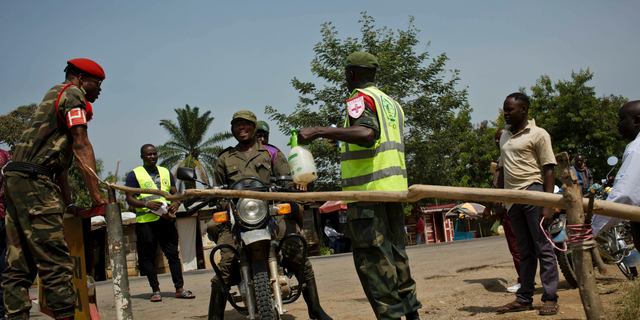 Four Ebola patients have gone missing in Congo after an attack on Wednesday on a treatment center run by Doctors Without Borders, prompting the group to suspend its operations in the area.
The move to temporarily shut down its operations came on Thursday just after attackers burned tents and other equipment, in what appears to be a second attack on the medical group in the span of four days.
EBOLA KILLS NEARLY 100 CHILDREN IN CONGO AS OUTBREAK RAGES ON
A similar attack was perpetrated on Sunday in which assailants set fire to another eastern Congo clinic operated by Doctors Without Borders, killing one person and injuring another.
"In light of these two violent incidents, we have no choice but to suspend our activities until further notice," said Hugues Robert, the group's emergency desk manager. "As medical responders, it is very painful to have to leave behind patients, their families, and other members of the community at such a critical time in the Ebola response."
The latest attacks come in the wake of the country's 10th Ebola outbreak, raising fears that this will cause a setback to the efforts to halt the spread of the deadly virus.
Health workers said to be struggling to win the trust of local residents amid attacks by armed groups competing for control of the mineral-rich region.
The Health Ministry said 32 of the 38 people being treated for suspected cases of Ebola fled the area during the attack on Wednesday, while eight of the 12 patients with confirmed cases remained in bed. Patients who have been found after the attack were temporarily moved to another treatment center.
EBOLA VIRUS FOUND IN BAT IN WEST AFRICA FOR THE FIRST TIME, SCIENTISTS SAY
The search for the remaining four patients with confirmed cases of Ebola, who are highly infectious, is currently underway, the ministry said.
The Ebola outbreak declared in August is the second-largest when it comes to cases and deaths in West Africa, just behind the 2014-2016 outbreak that killed more than 11,300 people.
Since the outbreak in Congo, there have been 879 cases, of which 814 are confirmed, along with 488 confirmed Ebola deaths.
CLICK HERE TO GET THE FOX NEWS APP
In an update on Thursday, the World Health Organization said there was a "high proportion" of people with Ebola dying in the community. The statement indicated people infected with Ebola are avoiding treatment and clinics.
The Associated Press contributed to this report.