38 Years Later, El Centro for Puerto Rican Studies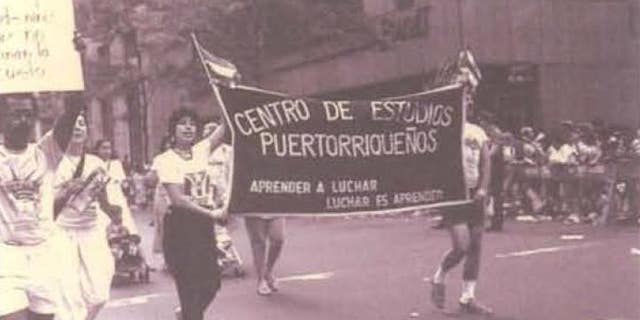 Founded in 1973, El Centro for Puerto Rican Studies in New York City has become more than an archive. It's more than a library. The center has become a reference point for the heart of Puerto Rican culture.
El Centro holds some of Puerto Rico's most prized historical literature and references in an attempt to answer some of people's most introspective questions, including: What does it mean to be Puerto Rican?
"We are in charge of conserving that heritage, that legacy," said Edwin Meléndez, El Center's director.
El Centro is trying to make sure that everyone with an affinity for the culture has a destination where they can go and study its history, the merging of two ancestries. It holds over 250 collections from some of the top names in Puerto Rico's American history. Its archives are donated by the authors of the work.
"These are one-of-a-kind pieces that you can't find anywhere else in the world," said Meléndez. "These archives document the cultural mix of Puerto Ricans and American culture."
Many of these pieces surround the history of New York City, which has the largest population of Puerto Ricans outside of Puerto Rico. According to the U.S. Census' American Community Survey, the city is home to some 800,000 Puerto Ricans.
Pieces include Oscar García Rivera's political artifacts. García Rivera ran for New York State Assemblyman as a Republican in 1937, and was the first Puerto Rican to be hold political office in the US. El Centro has everything from pamphlets to posters of the campaign.
Meléndez says among his favorites are the first Puerto Rican librarian, Pura Belpre's puppets and the Presidential Medals awarded to Tony Pantojas and Helen Rodríguez. Or maybe a hat signed by Pedro Pietri, a Nuyorican poet and playwright.
"There are many candidates for the best," he said.
The archive contains collections from people like Olga Méndez – the first Puerto Rican woman elected to a state legislature in the US. Her memorabilia includes plaques, files from her time in office and correspondence. Mendez represented the 28th District in New York City for 28 years, until she was defeated by José Serrano in 2004.
"I think that New York City holds a special place in the history of the Puerto Rican community in the United States," Meléndez said. "New York City has been the birth place of the Puerto Rican Diaspora. To date, Puerto Ricans are the footing of Latino culture in the city."
These collections share a grand gray area with the history of New York City. It's what makes El Centro an important historical place for the city.
Funded by the State of New York, The City University of New York, and Hunter College, El Centro grew as an idea from CUNY students in the late 60s and early 70s who were fighting for a tuition-free public college.
El Centro does not stop at collecting and archiving original works – it also operates educational programs for students who want to learn about their Puerto Rican heritage and people who want to teach Puerto Rican studies.
"Having the collection is just the first start," Meléndez said. "We are trying to help people find answers to guide them to better understand the Puerto Rican community."
Housed in Hunter College, Meléndez said students and researchers are welcome at El Centro to "promote cultural continuity."
"We often work together," Meléndez said. "We have students here with an affinity for the Puerto Rican history. They want to know about the roots of their parents and grandparents."
He said what he wants is to start conversation. To try and answer the question that people keep asking.
"What defines us as Puerto Ricans has evolved over time and has increased in complexity. What does it mean to be Puerto Rican? It's an evolving question that we may never have a response to," he said. "This never ending, revolving question is what the center is all about. All of this translates into how people can become leaders and make a difference in their community."
Follow us on twitter.com/foxnewslatino
Like us at facebook.com/foxnewslatino