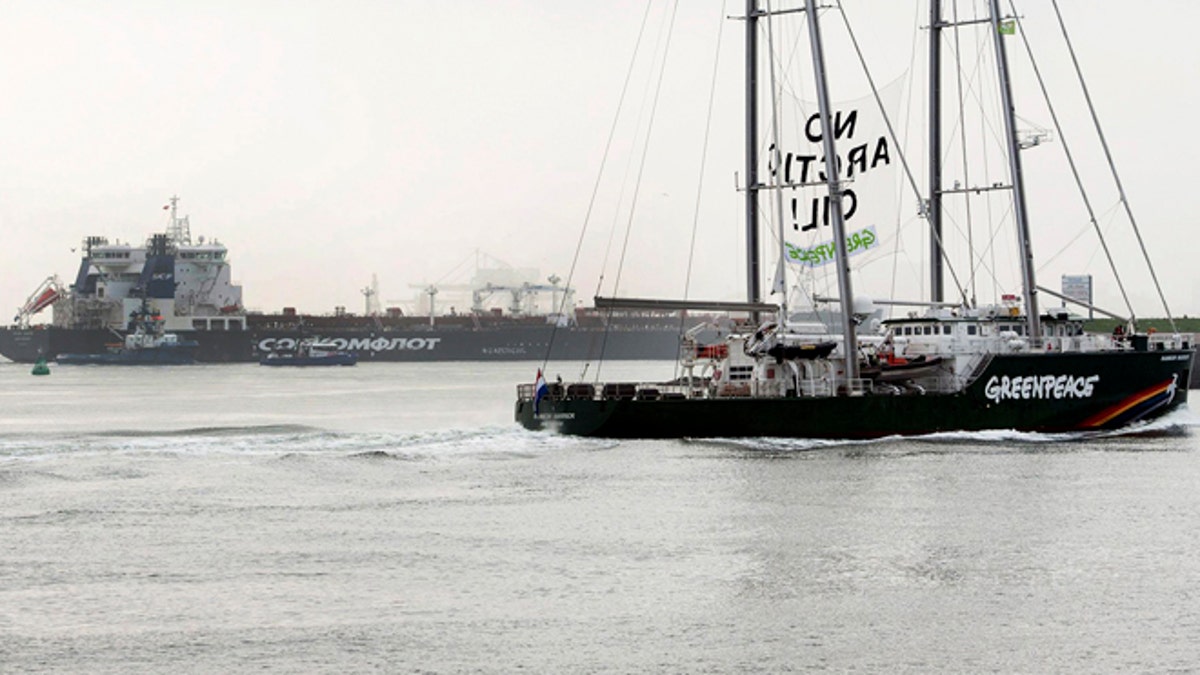 AMSTERDAM – Dutch police say they detained 31 Greenpeace activists Thursday as they attempted to prevent a Russian tanker carrying the first oil produced by a new offshore platform in the Arctic Ocean from mooring at Rotterdam Port.
The environmental group sent two ships, plus a fleet of rubber rafts, paragliders and activists on shore, to meet the Mikhail Ulyanov, a tanker chartered by Russia's state-controlled oil company, Gazprom OAO.
Activists painted the words "No Arctic Oil" in white letters on the hull of the Russian tanker and hung the same slogan on a giant canvas on one of their own ships. After several hours, the Ulyanov was able to dock safely.
Greenpeace opposes oil production inside the Arctic Circle, warning of the danger of a spill in a pristine and difficult-to-reach area — as well as the threat of worsening global warming caused by using fossil fuels.
Rotterdam police spokesman Roland Ekkers said Peter Willcox, the captain of the Rainbow Warrior, had disobeyed police orders to move his ship. Ultimately police towed the vessel to a different part of the port. The ship was returned to Greenpeace after the action ended, he said.
A further 30 activists were also detained, he said, some for trespassing, and others who had attempted to stop the tanker from docking by blocking its mooring place with their rubber rafts.
No one was injured, though one activist fell in the water and was treated briefly for hypothermia.
Willcox was one of a group of 28 activists and two journalists arrested by Russian authorities last year and charged with piracy after a protest near Gazprom's Prirazlomnaya offshore Arctic platform. They spent months in a Russian prison before being released shortly before the Winter Olympics in Sochi earlier this year.
"Thirty of us went to prison for shining a light on this dangerous Arctic oil, and we refuse to be intimidated," said Faiza Oulahsen, a Dutch activist who was arrested in Russia.
"This tanker is the first sign of a reckless new push to exploit the Arctic."
French oil company Total SA is purchasing the oil carried by the Ulyanov.
Rotterdam is Europe's largest port, and about a third of the oil stored there comes from Russia.