200 migrants feared dead after fishing boat capsizes in Mediterranean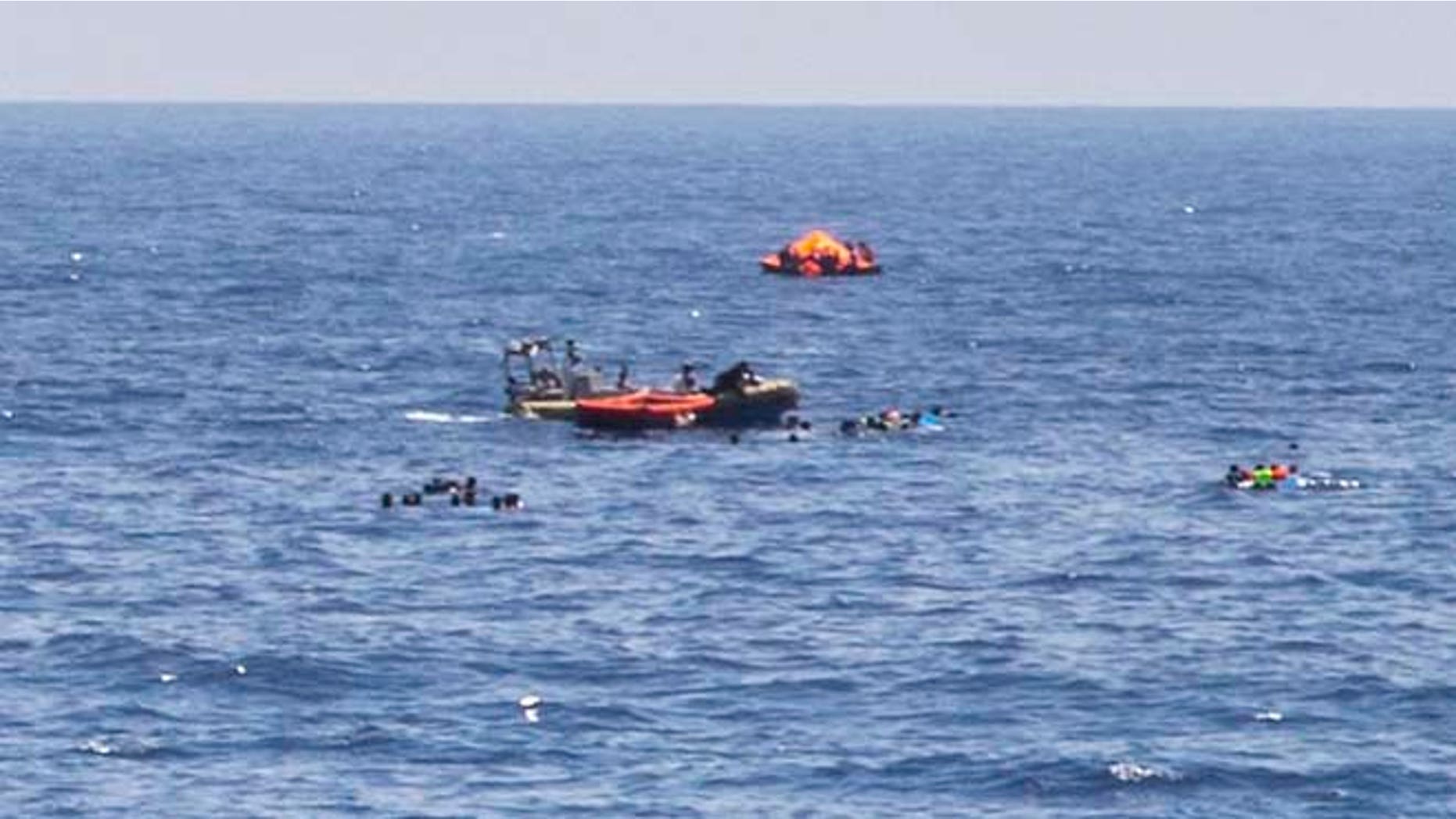 A fishing boat crowded with migrants overturned Wednesday in the Mediterranean off Libya as rescuers approached, and the Italian coast guard and Irish navy said at least 373 people were saved, although 25 bodies also were found in the latest human smuggling tragedy.
Coast guard Cmdr. Filippo Marini said the rescue operation, involving seven ships, was still underway several hours after the capsizing. Survivors indicated that between 400 and 600 people were aboard the smugglers' boat, he added.
"I fear the death toll will be around 200," Flavio Di Giacomo, a spokesman for International Organization for Migration, said, reported The Wall Street Journal.
The Irish naval vessel Le Niamh was one of the ships tasked by the coast guard to speed to the rescue of the boat shortly before noon, Irish Capt. Donal Gallagher told The Associated Press by phone. The Le Niamh arrived near the fishing boat, Marini said, and "at the sight of it, the migrants shifted" to one side and their boat capsized.
An Irish Defense Forces statement said that when it reached the scene, the Le Niamh deployed two rigid hull inflatable boats on either side of the vessel "as per standard procedure. However, the vessel capsized." The Le Niamh deployed life rafts and other rigid hulled boats, it added.
An Italian military helicopter dropped additional life rafts into the sea, where 150 people were initially spotted, Gallagher said.
By evening, the Le Niamh had 367 people aboard, including 13 children, the Irish military said.
Since the water was warm, rescuers worked with hope of finding more survivors, even as dusk approached.
The vessel was reported to about 75 miles northwest of Tripoli, Libya's capital. If it is determined that hundreds were crammed in the hold of the iron fishing boat that overturned Wednesday, there is a real risk that many of the migrants died trapped inside.
Also involved in Wednesday's rescue were an Italian vessel and a boat operated by Doctors Without Borders.
Non-governmental organizations or cargo ships in the vicinity frequently help rescue migrants, with operations coordinated by Italy's coast guard and under the umbrella of a European Union task force known as Triton.
On Tuesday, the International Organization for Migration said nearly 2,000 migrants are believed to have died at sea since the start of this year, but the exact toll isn't known.
Fleeing war, persecution and poverty, the migrants travel overland for weeks or months from sub-Saharan Africa, the Horn of Africa, the Middle East and parts of Asia to reach Libya. Once there, they set sail in flimsy motorized rubber dinghies or rickety fishing boats. When the vessels have problems, often someone aboard contacts the coast guard by satellite phone to request rescue. Other boats in distress are spotted by Triton air surveillance.
Most of the migrants hope to find asylum, relatives or jobs, mainly in northern Europe.
The Associated Press contributed to this report