2 severed heads found near tourist zone in Cabo San Lucas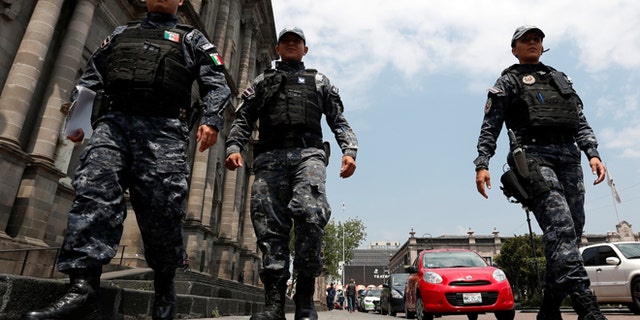 NEWYou can now listen to Fox News articles!
Authorities in Mexico's Baja California Sur state say two heads have been found in a cooler just two blocks from the tourist zone of Cabo San Lucas.
One day earlier, the state prosecutor's office announced that two dismembered bodies were found in another cooler in the tourist corridor.
On Sunday, state prosecutors also said the total bodies found after several days of excavation of clandestine graves had reached 18.
The bodies of five women and 13 men were found in 12 graves near the Cabo Pulmo nature reserve. They were discovered off a road that runs between the reserve and the resort of San Jose del Cabo.
The wave of killings in recent months is believed to be tied to battles between drug gangs, including factions of the Sinaloa cartel.
Meanwhile, earlier this month, another journalist has come under attack in Mexico. This time the victim is a woman who hosts a program on an indigenous radio station in the southern state of Guerrero.
State security spokesman Roberto Alvarez Heredia said Marcela de Jesus Natalia was shot in the head on Saturday as she left the government-owned station on the town of Ometepec.
Alvarez says he doesn't know of any threats against de Jesus Natalia, who also has worked for a local family aid agency.
At least six journalists have been killed since the beginning of March in Mexico, prompting an outcry that has led the government to promise efforts to protect journalists.
Guerrero has suffered repeated waves of violence by drug-based criminal gangs.
The Associated Press contributed to this report