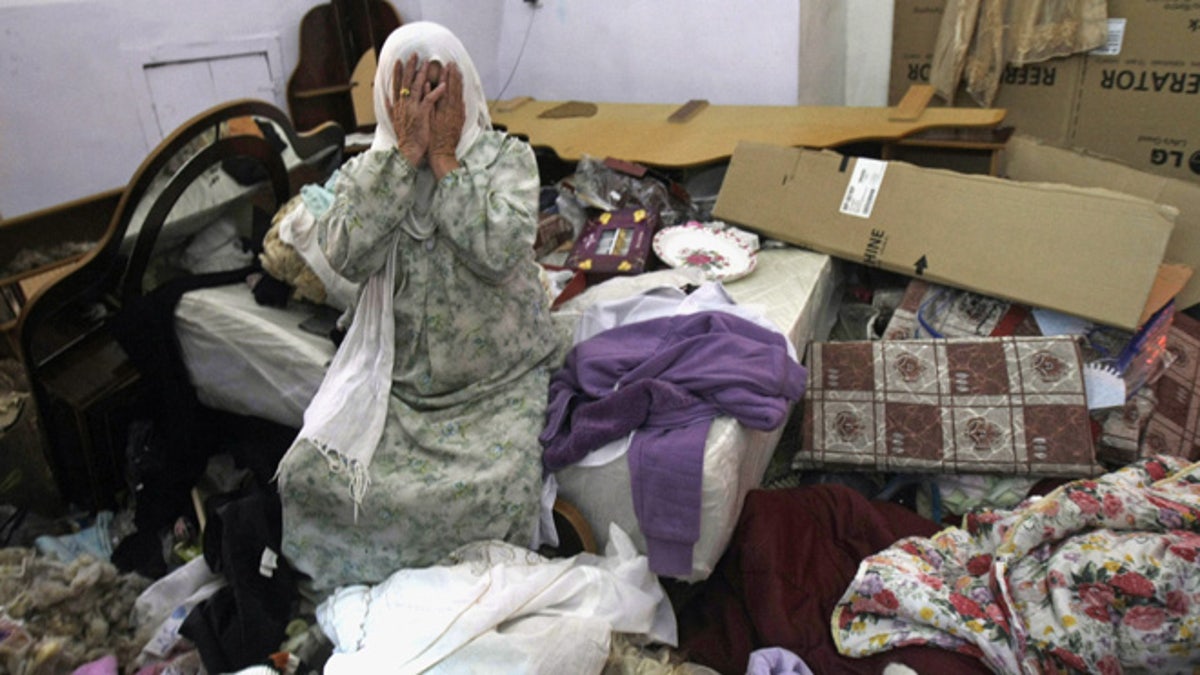 RAMALLAH, West Bank – Israeli troops shot dead a mentally ill Palestinian who approached them in a West Bank refugee camp Sunday, the army said, while another Palestinian was killed in clashes in the city of Ramallah.
Sunday's deaths brought to four the number of Palestinians killed since Israel launched its most extensive military operation in the West Bank in years after the abduction of three Israeli teens on June 12.
Israel has arrested more than 350 Palestinians, most affiliated with the Islamic militant Hamas, and raided some 1,600 locations. Israel has blamed the kidnappings on Hamas, which has praised the act, but not claimed responsibility.
The sweeps have led to growing confrontations after years of relative calm. Increasingly, Israeli troops entering towns and refugee camps are met by crowds of Palestinian stone-throwers.
Eleven human rights groups urged the Israeli military on Sunday to refrain from collective punishment of the Palestinian population. "Overall, the measures adopted and their extent do not seem to serve a military need that can justify the damage they have caused," they wrote.
There were also signs of growing Palestinian anger at Western-backed Palestinian President Mahmoud Abbas who has defended his decision to continue security coordination with Israel, including in the search for the teens.
Israeli Prime Minister Benjamin Netanyahu said Sunday that he has "unequivocal proof" of Hamas involvement in the abductions. He said he is sharing this evidence with several countries and will make it public soon.
Abbas, meanwhile, said he has "no credible information" that Hamas was involved.
"When Netanyahu has such information, he needs to update me and we will take care of the matter according to our own laws," he told the Israeli newspaper Haaretz.
In Ramallah, Israeli troops entered the downtown area at about 2 a.m. Sunday, searching offices in two commercial buildings.
Several hundred Palestinians threw stones and flower pots at soldiers who fired live bullets and rubber-coated steel pellets, said Issam Rimawi, a photographer for a local newspaper.
After the soldiers withdrew, dozens of protesters hurled stones at a nearby Palestinian police station and smashed windows of parked cars, said Rimawi and a protester, who spoke on condition of anonymity to avoid repercussions from the authorities.
Palestinian troops fired live rounds, the two witnesses said.
After the clashes, the body of Mohammed Ismail, 31, was found on a rooftop opposite the police station, they said.
Dr. Saber Aloul, a Palestinian forensic pathologist, performed an autopsy and said Ismail was killed by an M-16 bullet in the shoulder. Palestinian forces do not use M-16s, said a spokesman, Adnan Damiri.
The Israeli military, which is known to use M-16s, had no comment.
Later Sunday, several dozen people marched in downtown Ramallah to protest Israeli-Palestinian security coordination.
"Why, why security coordination? We get hit once by the Palestinian Authority and once by the Israeli army," they chanted.
Analyst Jihad Harb said the Israeli crackdown is weakening Abbas.
"The Palestinian street is very angry at the Palestinian Authority and President Abbas in particular because they see him siding with Israel against them," he said.
In a separate incident Sunday, 27-year-old Ahmed Saoud was killed by Israeli troops as he walked to a mosque for dawn prayers in the Al-Ein refugee camp, said his father, Assad. The elder Saoud said his son suffered from mental illness.
The army said a Palestinian man approached soldiers in a threatening manner early Sunday, and that they fired warning shots before shooting him. The army said an "initial inquiry" suggested the man was mentally unstable.
The Israeli teens went missing as they were returning home from a Jewish religious school in the West Bank 10 days ago. They have not been heard from, and no group has asked for ransom or made other demands.
In the Gaza Strip, Israel carried out airstrikes on four militant sites following rocket fire from Gaza into Israel, the army said. Also Sunday, a Palestinian armed with a hand grenade was caught near an Israeli town near the Gaza border, apparently after he broke through the border fence, the army said.