2 Iowa police officers killed in separate attacks while sitting in patrol cars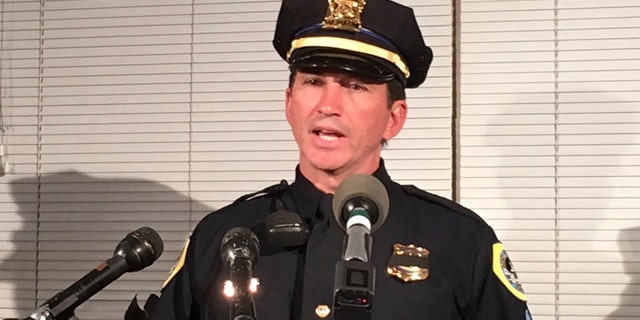 NEWYou can now listen to Fox News articles!
Two Des Moines area police officers were shot to death early Wednesday in ambush-style attacks while they were sitting in their patrol cars, and police are searching for suspects, authorities said.
Officers responded to a report of shots fired at 1:06 a.m. and found an Urbandale Police Department officer who had been shot. Authorities from several agencies saturated the area after that shooting, and about 20 minutes later discovered that a Des Moines officer had been shot in a patrol car at an intersection, Des Moines Sgt. Paul Parizek said. The shootings happened about 2 miles apart and both took place along main streets that cut through residential areas.
"There's somebody out there shooting police officers. We hope to find him before somebody else gets hurt," said Parizek, who stopped briefly during a news conference as he worked to control his emotions.
The shootings follow a spate of police killings, including ambushes of officers in Dallas and Baton Rouge, Louisiana. Five officers were killed in Dallas on July 7 and three were killed later that month in Baton Rouge.
Earlier this year, two Des Moines officers, Susan Farrell and Carlos Puente-Morales, also died earlier this year when their vehicle was struck head-on by a wrong-way drunk driver
Authorities in Iowa are developing suspect information but they have nothing that they are ready to share with the public, Parizek said. Officers are now conducting patrols in pairs for protection, he said.
"There is a clear and present danger to police officers," Parizek said.
Parizek said he wouldn't release more information about the shootings.
Urbandale Sgt. Chad Underwood said Urbandale officers are equipped with body cameras, but they don't run constantly and it's unclear whether there was video of the shootings.
Urbandale is a suburb of about 40,000 people in the Des Moines metro area with about 50 officers. Officials in Urbandale cancelled school for the day.
Des Moines has about 375 sworn officers.
Based on reporting by The Associated Press.
Like us on Facebook
Follow us on Twitter & Instagram