19 More China Miners Rescued, Leaving 3 Missing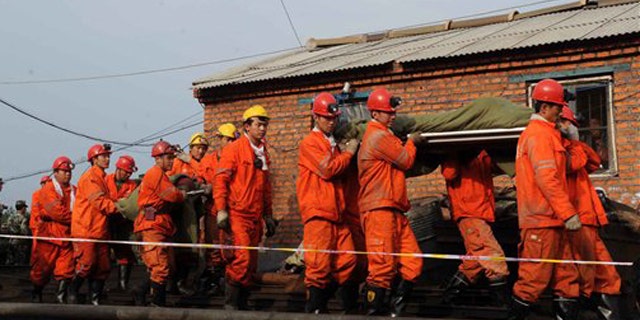 BEIJING – Nineteen coal miners were pulled to safety Tuesday after being trapped underground for a week in northeastern China, while rescuers searched for their three missing colleagues.
Twenty-six miners were trapped in galleries relatively close to the surface when water poured into a shaft on Aug. 23 from an adjacent mine that had flooded. Three were pulled out alive Saturday and one body was recovered.
The latest rescues began early Tuesday, with helmeted teams bringing each man up on a stretcher, their faces black with coal dust and their eyes covered to prevent damaging exposure to the sun after so long in the dark.
Wang Xiankui, the governor of Heilongjiang province, where the Hengtai mine is located, greeted each of the 19 miners brought to the surface Tuesday and assured them that rescue work was continuing.
"We are doing everything we can to save your colleagues," Wang said in footage shown on state broadcaster CCTV.
The survivors, who were hospitalized in stable condition, were able to keep their helmet lamps operating for the 165 hours they were trapped. They sustained themselves with water that dripped from the ceiling and later nutrition packs sent in through a 920-foot (280-meter) pipe drilled through the rock, which also provided fresh air.
The mine had been ordered shut in 2007 but was reopened without permission on Aug. 16.
Seven officials have been detained over the mine's operation and the head of surrounding Boli county and his deputy have been dismissed from their posts.
China's mines are notoriously deadly, although safety improvements have cut annual fatalities by about one-third from a high of 6,995 in 2002. That improvement has come despite a tripling in the output of coal used to generate most of China's electrical power.
Technological advances, better training and the closing of the most dangerous, small-scale mining operations have upped the success rate of rescue operations, even after several days.
In April 2010, 115 miners were pulled from a flooded mine in the northern province of Shanxi after more than a week underground.