16 killed in attacks as Pakistanis vote in landmark election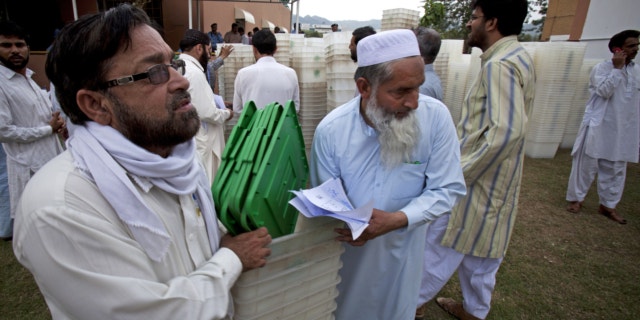 ISLAMABAD – Defying the danger of militant attacks, Pakistanis streamed to the polls Saturday for a historic vote pitting a former cricket star against a two-time prime minister and an unpopular incumbent. But attacks that killed 16 people and wounded dozens more underlined the risks many people took just casting their ballots.
The violence was a continuation of what has been a brutal election season with more than 130 people killed in bombings and shootings. Some are calling this one of the deadliest votes in the country's history.
Despite the violence, many see the election -- the country's first transition between an elected government fulfilling its term to another -- as a key step to solidify civilian rule for a country that has experienced three military coups.
Twin blasts in the port city of Karachi targeted the political offices of the Awami National Party, one of three secular liberal parties that have been targeted by Taliban militants during the run-up to the election, said police officer Shabir Hussain. Nine people died in the attack and 30 were wounded.
In the northwestern city of Peshawar a bomb exploded outside a polling station, killing at least one person and wounding 10 others, said police officer Mukhtiar Khan.
In the southwestern Baluchistan province where separatists oppose the election, gunmen killed two people outside a polling station in the town of Sorab, police official Mohammed Yousuf said.
Also in Baluchistan, a shootout between supporters of two candidates in the town of Chaman ended with four people dead, said Ismail Ibrahim, a government official.
The threats are such that the government has deployed an estimated 600,000 security personnel across the country to protect polling sites and voters. But many Pakistanis still seemed determined to cast their ballots.
"Yes, there are fears. But what should we do? Either we sit in our house and let the terrorism go on, or we come out of our homes, cast our vote, and bring in a government that can solve this problem of terrorism," said Ali Khan. He was waiting to vote in the city of Peshawar where one of the blasts took place Saturday.
The election is being watched closely by Washington since the U.S. relies on the nuclear-armed country for help fighting Islamic militants and negotiating an end to the war in neighboring Afghanistan.
Former cricket star Imran Khan, who has almost mythical status in Pakistan, has challenged the dominance of the country's two main political parties, making the outcome of the election very hard to call. He is facing off against the Pakistan Muslim League-N, headed by two-time former prime minister Nawaz Sharif and the Pakistan People's Party, led by President Asif Ali Zardari.
While Sharif has billed himself as the candidate of experience, Khan is trying to tap into the frustrations of millions of Pakistanis who want a change from the traditional politicians who have dominated Pakistani politics for years.
"I never voted for anyone in the past, but today my sons asked me to go to polling station, and I am here to vote," said Mohammed Akbar, speaking from the northwestern city of Khar. "Imran Khan is promising to bring a good change, and we will support him."
Khan's mythical status grew even larger this week after he survived a horrific fall off a forklift during a campaign event in the eastern city of Lahore that sent him to the hospital with three broken vertebrae and a broken rib. He is not expected to vote Saturday because he can't travel to his polling place.
Nobody is sure how effective he will be in translating his widespread popularity into votes, especially considering he boycotted the 2008 election and only got one seat in 2002. Turnout will be critical, especially among the youth. Almost half of Pakistan's more than 80 million registered voters are under the age of 35, but young people have often stayed away from the polls in the past.
It is likely in the province of Punjab, Pakistan's most populous, that this election will be decided. Sharif and Khan have been battling intensely for support of people across the province in a series of large rallies and campaign events.
On the campaign trail, Sharif pointed out how much more experience he has than Khan and touted key projects he completed while in office, including a highway between the capital Islamabad and his hometown of Lahore.
He's also credited with refraining from attacking the outgoing government and allowing it to finish its full term as a way of strengthening civilian government control.
"It's better to try a lesser evil instead of trying a novice," said one voter in Lahore, Haji Mohammad Younus. "The lesser evils at least have the experience of governing. They might be corrupt but they have lately realized that they have to deliver if they want to survive."
There is concern that the violence could benefit Islamist parties and those who take a softer line toward the militants, including Khan and Sharif, because they were able to campaign more freely.
The outgoing Pakistan People's Party is likely to fare poorly in this election. Voters are fed up with five years of power outages, rising inflation and militant attacks. The party, which rose to power in 2008 in part by widespread sympathy after the death of party leader Benazir Bhutto, has carried out what many called a lackluster campaign this election.
Their effort has been hampered by threats of Taliban violence and a lack of high-profile figures who could rally the party faithful. Benazir Bhutto's son, Bilawal Bhutto Zardari, is officially the party chairman and had been expected to play a high-profile role in the election.
But he's appeared at few election events, and was not expected to vote Saturday because he was out of the country.
The election was also marred by reports that some women in the North Waziristan tribal area were not allowed to vote. Clerics using loudspeakers at local mosques in the cities of Mir Ali and Miran Shah urged women not to participate, and none could be seen at the polls.
Women in Pakistan have had to fight extensive discrimination when it comes to asserting their electoral rights. They represent only about 43 percent of the roughly 86 million registered voters. In many areas, particularly in the conservative northwest, the men decide ahead of the election that their wives, daughters and sisters will not be allowed to vote.
Some men do not consider the women intelligent enough to vote while others do not want them to leave the house because they could be seen by strange men. Others are worried about their safety.
The election winner will inherit a country struggling on a number of fronts. Pakistanis suffer from rolling blackouts that can be as long as 18 hours a day and rising inflation has made it difficult for many to make ends meet.
The country is also battling Islamic militants who want to overthrow the Pakistani government while on the western border there are fears that a U.S. military departure from Afghanistan will send violence spilling over into Pakistan.
Both Khan and Sharif have favored negotiations with militants in the country's tribal areas, and Khan has even said he would pull out troops from the tribal areas if elected.
That would likely put him at odds with the country's powerful military. While Pakistan has been under civilian rule for the last five years, the military still is considered the country's most powerful institution and usually makes the major decisions when it comes to militancy or foreign policy issues such as Afghanistan or India.
In what appeared to be a show of support for democracy in Pakistan, Kayani went himself to the voting booth -- shown live on Pakistani television -- instead of mailing in his ballot.
On the eve of the historic vote Pakistan expelled the New York Times correspondent, Declan Walsh.
The newspaper said in an article published on its website Friday that their longtime foreign correspondent was handed a two-sentence letter accusing him of unspecified "undesirable activities" and ordering him to leave.
Times Executive Editor Jill Abramson has protested the expulsion in a letter to Pakistan's interior minister, Malik Muhammad Habib Khan. Abramson describes Walsh as a "reporter of integrity who has at all times offered balanced, nuanced and factual reporting on Pakistan."
Walsh, 39, has lived and worked in Pakistan for the past nine years.