15 injured after Florida-bound plane forced to make emergency landing due to fire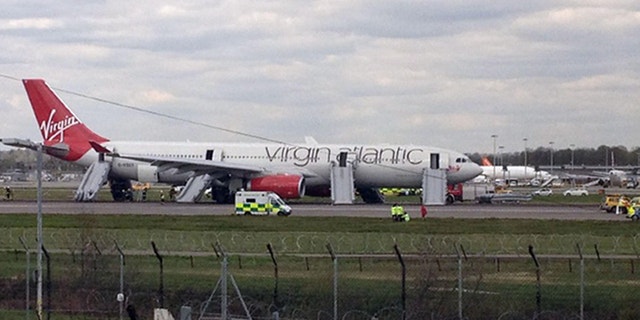 Fifteen people were hospitalized Monday, some with spinal injuries, after a Virgin Atlantic Airways flight bound for Florida had to turn back and make an emergency landing at London's Gatwick Airport.
The Airbus A330, en route to Orlando with 299 passengers and 13 crew aboard, returned to the airport about two hours after it left amid reports of a small fire on board, Sky News reported. West Sussex Fire and Rescue Service said it was called at 12:21pm to reports of a "small fire on board an aircraft."
Passengers were injured as they used emergency slides to evacuate the plane after it came to a stop on the runway at the airport south of London.
Passenger Tom Aldridge told public broadcaster the BBC that it appeared a member of the cabin crew panicked as evacuation was ordered on the runway.
"She was screaming 'Get off, get off,'" he said. "She was literally pushing people down the chute. Someone has a broken ankle, another guy hit his head when he went down the chute, others have cuts and bruises."
Sky said five of those taken to local hospitals for treatment had ankle injuries, five suffered spinal or back injuries, two had rib injuries and two had abdominal or stomach injuries. There was also a child with a broken leg.
An ambulance service spokeswoman said, "Fifteen patients were transferred to hospital, 14 of which went to two major trauma centers ... suffering from suspected fractures."
Virgin said in a statement, "We are working closely with the authorities to establish the cause of this incident. The safety and welfare of our crew and passengers is our top priority."
Virgin boss Sir Richard Branson tweeted, "Very sorry to all passengers on board VS27. The staff @virginatlantic are doing everything they can to look after everybody."
Gatwick was closed for more than 90 minutes as a result of the emergency, with 26 flights diverted and nine canceled. It reopened about 2:00pm and was fully operational again by about 3:30pm.
Monday's incident came three days after flights at the airport, which is one of the UK's busiest, were disrupted briefly for "safety reasons" after a hot air balloon strayed into its airspace.