145-year-old letter sent from Paris via hot-air balloon ends up in Australia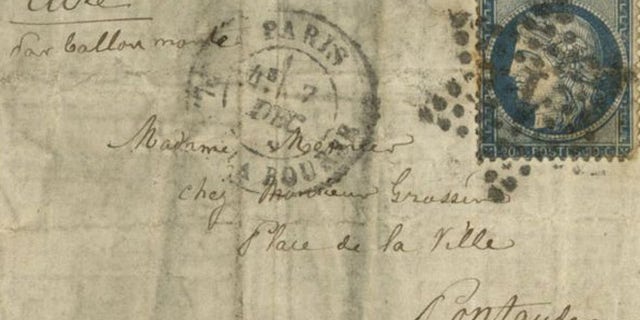 NEWYou can now listen to Fox News articles!
Historians in Australia are working to determine how a letter sent around 1870 from Paris on a hot air balloon ended up in archives more than 10,000 miles away in Sydney.
The letter, measuring about 8-by-5 inches and which has no papertrail, was brought to light when country officials discussed developing an exhibit. The stamp on the letter indicates that it was sent on Dec. 7, sometime between 1870 and 1871, the BBC reported.
The letter was sent during the Franco-Prussian war, from the author, Charles Mesnier (or Mesmier) to his mother. The letter mentions "some real battles" and reassures the family not to worry about him.
The BBC reported that there is hope that relatives of the sender live in Australia. The current theory is that the letter was bought at an auction.
NDTV reported that balloon mail was one of the few ways people could communicate in Paris. These flights often took place under the cover of night and thousands of letters were delivered using this method.
"We were delving into our collections to see what material connects to France, and it was extraordinary to find this intriguing piece of history," Louis Doyle, the assistant director general at Australia's National Archive, told the BBC.