12 killed as torrential rains in Turkey trigger landslide; 2 still missing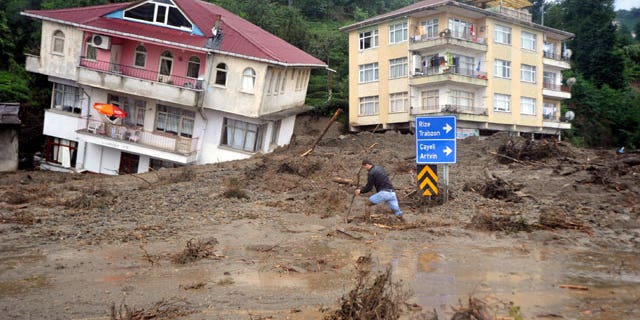 ANKARA, Turkey – ANKARA, Turkey (AP) — Landslides and floods triggered by torrential rains swept through a town in northern Turkey, killing at least 12 people, officials said Friday.
The landslide hit dozens of homes in Gundogdu, in the tea-growing Black Sea province of Rize. The region has become prone to landslides because of deforestation to clear way for plantations.
The rains began late Thursday, as many people were breaking their dawn-to-dusk fasts for the Muslim holy month of Ramadan, according to the Anatolia news agency.
The Interior Ministry said 11 people were killed and two were reported missing. Rescuers later pulled out the body of an elderly woman, the Anatolia news agency reported, raising the death toll to 12.
Private NTV television said dozens of homes collapsed and cars were buried in mud. Several roads, including a major Black Sea coastal highway, were shut down.
One survivor, Burak Akat, said his family was dining when a loud sound was heard.
"We realized that the house was going to collapse. It did before I could say, 'Run it's going to collapse!'" Anatolia quoted Akat as saying. "I managed to throw myself out but my mother-in-law and my brother could not escape. They were buried in the landslide."
At least seven people with injuries were rescued, said Rize Gov. Seyfullah Hacimuftuoglu.
Firefighters and other rescuers also evacuated scores of people who were stranded in homes, he said.