1 million rally in Barcelona for independence from Spain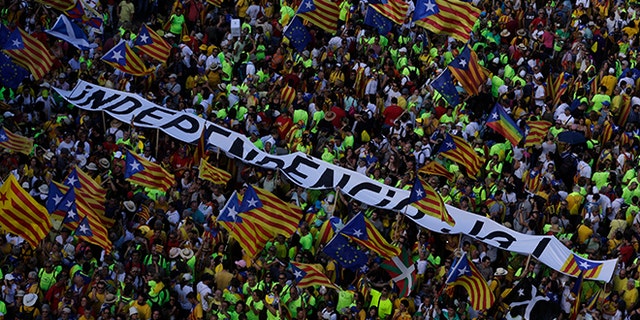 A massive crowd around 1-million strong surged into the streets of Barcelona Monday to mark Catalonia's national day - the "Diada" - and show support for an independence referendum that Spain's central government says is illegal.
Catalonia's pro-independence government plans to hold the referendum on Oct. 1 in defiance of Spain, the BBC reported. Catalonia has passed a law to secede from Spain if the vote is Yes.
Opinion polls suggest the vote, if it takes place, will be very close, the BBC reported.
The Spanish city's broad, tree-lined boulevards were a sea of yellow and red t-shirts that evoked the striped Catalan flag. Many participants carried the pro-independence flag, known as the "estelada," which adds a blue triangle and white star. The crowd passed a giant banner calling for a secession referendum overhead.
This year's annual celebration came amid growing excitement and tension over the independence vote planned for Oct. 1.
Spain's national government, based in Madrid, is doing all it can to stop the ballot, which it says is illegal. Catalan independence parties said the rally's huge turnout was a show of strength that would add momentum to their cause.
"Today we have said loud and clear that no orders from any court will stop us," Jordi Sanchez, head of the grassroots movement Assemblea Nacional Catalana, said in a speech to the crowd.
"Diada" commemorates the fall of Barcelona to Spain in 1714 and is traditionally used by pro-independence activists to call for secession for the northeastern region with a distinct language, Reuters reported.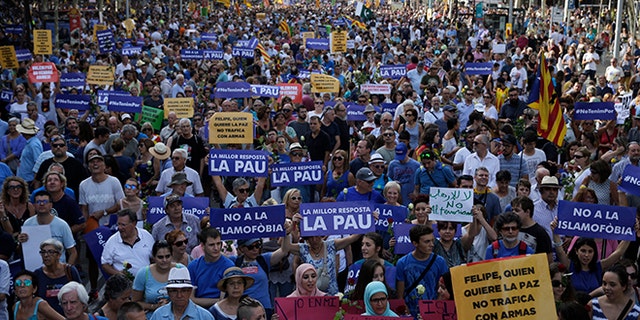 Barcelona police said on Twitter that around 1 million people took part in the rally-- one of the highest turn-outs in recent years, according to the news outlet.
"We hope that we will be able to hold the referendum with total normality, because in a democracy it is normal to be able to vote," said German Freixas, a 42-year-old engineer who attended the rally with his family.
"If the people want it to happen, it will go ahead," he told Reuters.
Spain's Constitutional Court last Thursday suspended the referendum after a legal challenge by Prime Minister Mariano Rajoy.
Police have since searched newspaper offices and printers for signs of any preparation for the referendum, according to Reuters.
"It's not an option that the referendum won't go ahead," the head of Catalonia's regional government, Carles Puigdemont, said Monday. "It's 20 days away and we've already overcome many hurdles."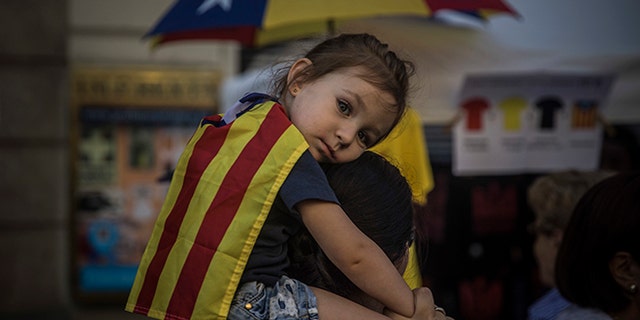 Puigdemont is facing criminal charges of misuse of public money, disobedience and abuse of office for organizing the referendum and has said that he is prepared to go to prison.
The Associated Press contributed to this report.