Remains of 5 bodies recovered from burned Oregon home believed to be family reported missing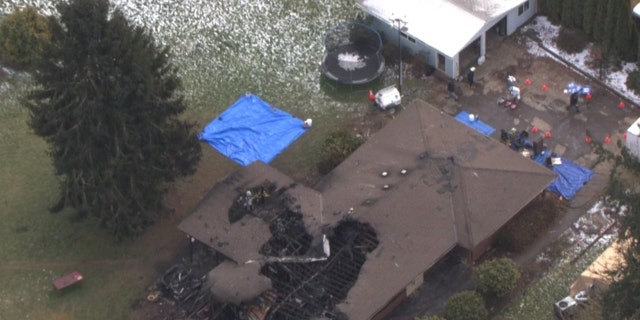 Investigators on Thursday recovered the remains of five people from a burned home while investigating a series of fires that appear to have been deliberately set in rural western Oregon.
The Marion County Sheriff's Office said that detectives confirm the remains are of an adult male, an adult female and three children and appear consistent with that of a family that owns the property near the town of Hubbard.
The bodies presumably would match up with Erin and Keith Kroeker and their three children, who were reported missing Tuesday after the blaze, Fox 12 Oregon reported. The sheriff's office noted that the identities of the remains still need to be confirmed by the medical examiner.
Additionally, the sheriff's office said in a news release that deputies do not believe there is any immediate danger to the public, but they are not yet ready to comment on details of the investigation.
"First and foremost I extend my condolences to the Kroeker family," Sheriff Jason Myers said in a release. "While this investigation is not yet complete, I would like to thank and recognize the 100 plus first responders, investigators and support personnel from various local, state and federal agencies who continue to work tirelessly during this difficult and complex investigation."
Investigators are trying to determine what took place in the pre-dawn hours of Tuesday, when firefighters found a home, a shop and a detached garage ablaze.
The property is located in the Willamette Valley off Interstate 5, between Portland and Salem.