Hunter with broken leg in Idaho wilderness crawls for days until rescue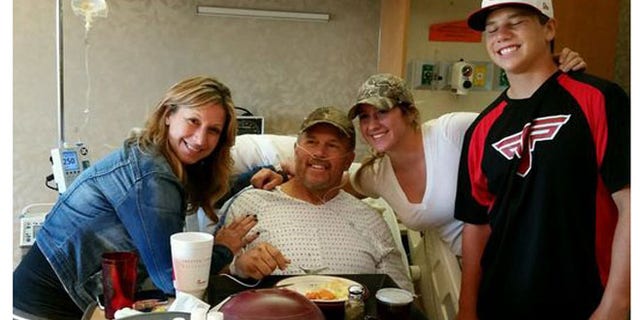 NEWYou can now listen to Fox News articles!
A lifelong hunter stranded in Idaho's rugged back county with a badly broken leg survived the ordeal by crawling for days and overcoming thoughts of suicide to deal with the intense pain.
John Sain, 50, even penned goodbyes to his wife and kids, but those letters made him realize that his will to live was a lot stronger than he thought. The image of his family, and a lot of prayer, sustained him in his hope that he would be found.
"When you're laying there and your foot's back there, you're in the middle of nowhere, you're not going to make it," he told KIVI-TV late Wednesday from a hospital bed in Boise where he was recovering from the four-day nightmare.
"It's just the bottom line," he added. "Do I want to suffer or do I just want to get it done with. And at one point I was reaching for my pistol, asking the Lord for forgiveness."
Jennifer Sain told FoxNews.com Friday her husband was working hard to get his strength back.
"He's hanging in there," she said.
Sain was bow hunting for elk in remote wilderness near McCall last week when his foot slipped between two logs and he fell. The accident broke both of the bones in Sain's lower leg, leaving him badly injured and unable to walk.
He had no cellphone service and was miles away from anyone else, the Press Enterprise reported Thursday. He did have a little food, a water purifier and a small survival kit, and built a fire each night for warmth.
After he rejected suicide, he fashioned a splint out of sticks and ripped cloth and began the arduous crawl toward a trail.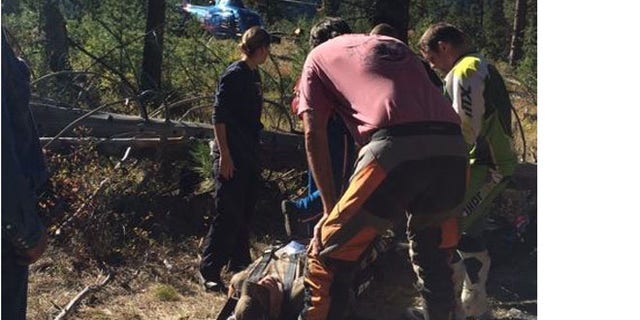 He reached the trail, a distance of three miles, after two agonizing days, the paper said.
Sain then scrawled "help" in the dirt in hopes someone would notice, his wife said.
Eventually, motorcyclists who wound up on the trail after making a wrong turn, found him. One rode to a spot where there was a cellphone signal and called for help.
"Thank God. I was praying the whole way that it would happen and it did. My prayers were answered for sure," Sain told KTVB-TV.
The motorcyclists then chopped down some trees to clear a spot so a helicopter could land and transport Sain to the hospital. He was also suffering from hypothermia and dehydration.
Sain was reunited with his wife and children Brooke and Cole at St. Alphonsus Medical Center in Boise.
"It was hard just knowing that he's out in the hills just trying to stay alive," Jennifer Sain said. "It still doesn't seem real to me."
Sain said he will hunt alone again, but not without a satellite phone or GPS locator.
The Associated Press contributed to this report.