Young girl falls from Carnival cruise balcony, is airlifted to Florida hospital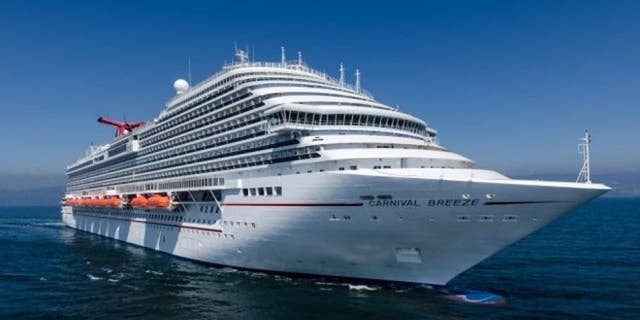 A 3-year-old girl is in stable condition after falling from the balcony of the Carnival cruise ship late last week.
The incident took place on Friday afternoon aboard the Carnival Breeze, which was heading back to Galveston, Texas, following a cruise to the Bahamas. According to KTRK, the toddler was out on her family's stateroom balcony when she tumbled off and hit the outdoor deck below.
WHY THE CARNIVAL BREEZE WAS CALLED THE 'FUNSHIP 2.0'
A helicopter dispatched by the U.S. Coast Guard's District 7 arrived later in the evening to airlift the young girl to a hospital in Tampa, Fla. The Coast Guard has also confirmed that the girl had sustained injuries to her face during the fall, though it's unclear how severe those injuries were.
However, one of the Coast Guard pilots who responded to the accident later wrote on Instagram that "her complete left side was swollen pretty badly," but he didn't believe the girl's injuries were anything more than a few fractures. He also posted a aerial photo of the ship, just before airlifting the girl.
Carnival has also released a statement regarding the incident, stressing that the 3-year-old was in stable condition before she was taken to the hospital.
"I can confirm that yesterday afternoon on board the cruise ship Carnival Breeze, a three-year-old child fell from her stateroom balcony to an outdoor deck area one level below," a representative for Carnival told Fox News. "She was in stable condition on board the vessel and was airlifted to Tampa as a precaution.
"Our CareTeam has been providing assistance and support to the family," the Carnival spokesperson added.
FOLLOW US ON FACEBOOK FOR MORE FOX LIFESTYLE NEWS
The Carnival Breeze left Galveston on July 30 for a seven-day voyage to the eastern Caribbean, and arrived back in Galveston on Sunday. KTRK reports that the incident did not affect the ship's journey.
A representative for Carnival was not immediately available for comment.
In a similar incident that occurred just one day earlier, a 30-year-old woman was airlifted from the Carnival Valor after falling and injuring her head, the Coast Guard reports. The ship was 10 miles off the coast of Galveston at the time.