World's most unusual yacht could cost $250M to build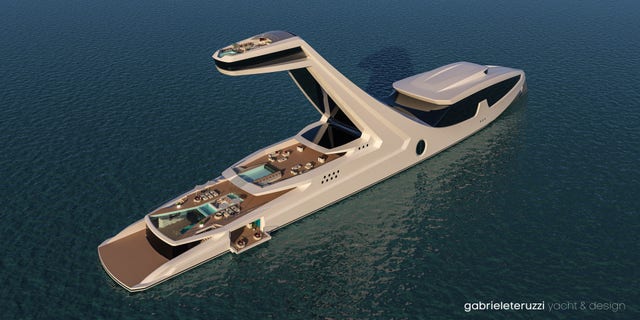 NEWYou can now listen to Fox News articles!
Have an extra $250 million lying around? If so, you may one day be the proud owner of the most outrageously cool yacht on the seven seas.
Designed by Gabriele Teruzzi and named Shaddai — which means, loosely, "omnipotent" in Hebrew — the low, sleek vessel looks more like a piece of modern sculpture than a boat for rich people.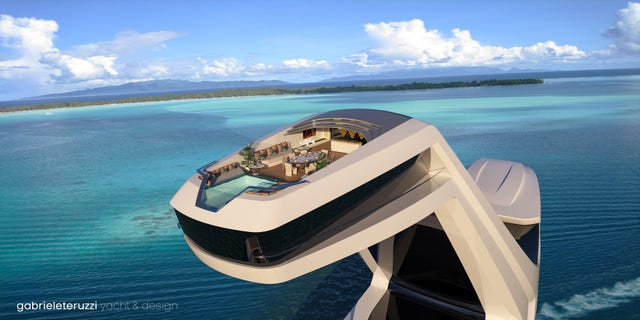 Shaddai will have all the accouterments that showy billionaires desire: oversize flat-screen TVs, a pool club, cushy hangout spaces and unparalleled views.
Its most striking feature is a sort of wing in back that rises 125 feet. It is topped off with a poshly outfitted master suite and 1,130-square-foot terrace that looks perfect for al fresco dining.
"To ascend from the ground has been a desire of humankind since the very beginning," Teruzzi writes in an e-mail to The Post, explaining the thinking behind his luxury perch.
"The futuristic shape of the yacht is inspired by the most contemporary architecture."
If sunbathing up high gets a little intense, you can always cool off in the glass-walled infinity pool — with a waterfall, of course.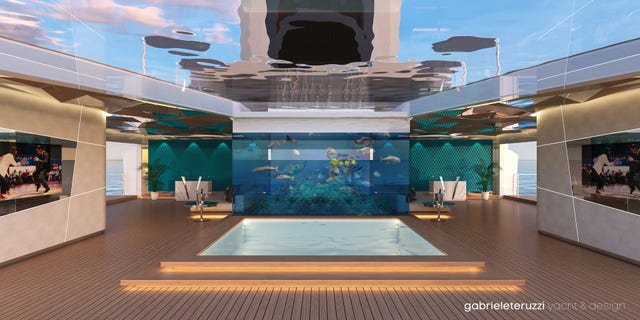 And in case you start to yearn for ocean creatures, simply repair downstairs and move to a second pool to get a shark's-eye view of a giant aquarium.
Yet to be built, since it is still in concept form, it rivals the most expensive apartment in New York City, a massive unit at 220 Central Park South, in potential cost. Though Teruzzi said he couldn't estimate the construction bill, it would cost about $250 million to bring the rendering to reality, according to Alberto Mancini, owner of AM Yacht Design, where Teruzzi works. For his part, Teruzzi tackled this design as a personal project.
This article originally appeared on NYPost.com.