World's most stylish airports
While nobody enjoys hanging around an airport for hours thanks to delays or long layovers, it's safe to say that once you're past security, the experience has greatly improved in recent years. Airports have spent millions revamping their terminals, and while most of the changes are functional, some of that money has gone toward improving both design and amenities. Airport architects have transformed once-bland spaces into light-filled, inspiring areas filled with everything from indoor tropical gardens to massive art installations. The buildings themselves can also be works of art, often inspired by their surroundings, whether they be the Pacific Ocean, prairie lands, or a series of rocks.
1. San Francisco International, Terminal 2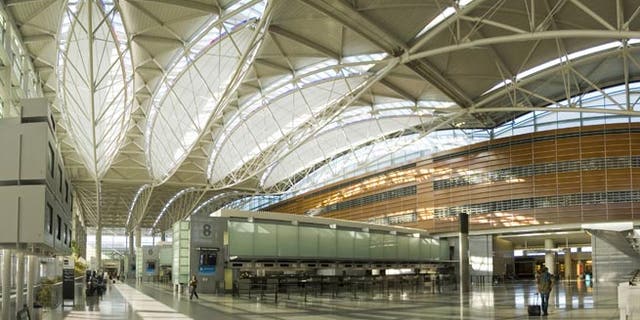 Where: San Francisco, CA
Think of SFO's Terminal 2 as the recycled airport, but in a good way. Architecture firm Gensler tackled a $383 million renovation of the terminal, with a focus on being green. The result is the first terminal in the US to achieve LEED gold status. Building material from the old terminal was reused, and passengers can refill water bottles at hydration stations around the terminal. SFO also doubles as an accredited art museum; look out for the hanging sculptures and rotating art exhibits. There's also dedicated play areas for children and a yoga room. Even the shops and restaurants are cool. Take your pick from Kiehl's, Pinkberry, or Vino Volo wine bar.
2. Wellington International Airport, The Rock Terminal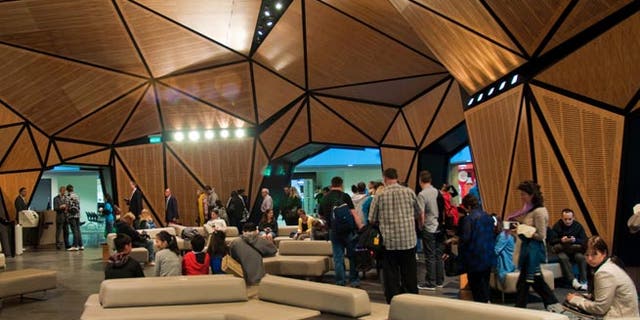 Where: Wellington, New Zealand
Welcome to The Rock, arguably New Zealand's most dramatic airport. There's nothing bland or business-like about the design, which takes its inspiration from a series of boulders along Wellington's south coast. Both the interior and exterior of the terminal are clad in folding sheets of copper and mimic the design of the boulder. The design does it have its critics, though, who say it looks a lot like a bunch of pumpkins.
3. Madrid-Barajas Airport, Terminal 4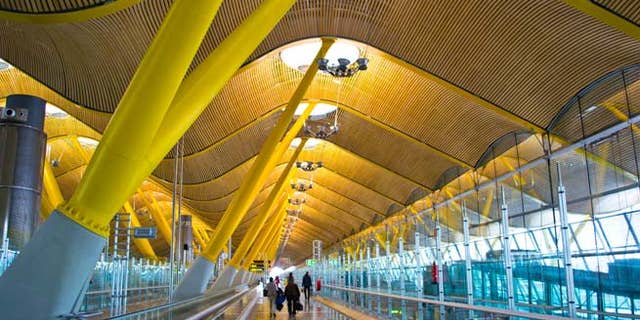 Where: Madrid, Spain
The design of terminal 4 in the Madrid-Barajas Airport has been described as joyful and exuberant. We'd like to throw in whimsical and inspiring too. The undulating wooden ceiling is supported by a canopy of rainbow colored trees that makes it seem like you're walking through a magical forest. Other notable design elements include the massive, disk-shaped lights and air conditioning vents, which look like sculptures. The architects, the Richard Rogers Partnership (as it was then called), won the prestigious Stirling Design in 2006 for their work on Terminal 4.
4. Winnipeg James Armstrong Richardson International Airport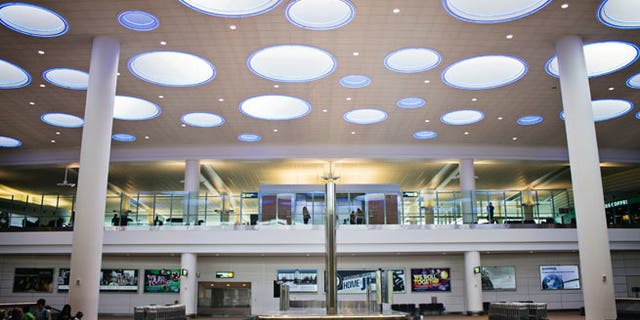 Where: Winnipeg, Canada
Opened in 2011, Canada's newest airport is also its first LEED-certified. Architecture firm Pelli Clarke Pelli, which also worked on Malaysia's Petronas Towers, took a mid-century modern approach to the James Armstrong Richardson International Airport. The design uses plenty of glass and light and features floor-to-ceiling windows and more than 55 skylights. The architects have said the design is meant to mimic the expansiveness of the prairie.
5. Changi Airport, Terminal 1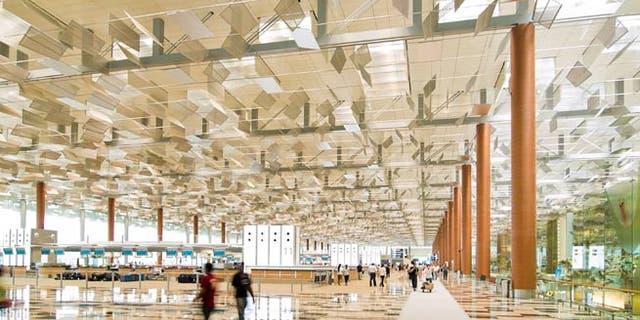 Where: Singapore
Changi Airport is consistently rated as one of the top airports in the world (not many airports can boast a pool, gardens, and cinema). While all the terminals are stylish, Terminal 1, which completed a S$500 million upgrade in July 2012 is a stand-out. The redesigned terminal has a tropical garden theme, with plenty of spacious open areas. One highlight is the Kinetic Rain sculpture, which hovers over the departures area. Consisting of 1,216 raindrops made of aluminum and polished copper, the airport says it's the largest kinetic sculpture in the world. Other dramatic installations include a lantern feature wall and giant lily pads. There is also a mind-boggling variety of amenities, from spas and pools to playgrounds.