Woman claims United gave her seat to Democrat Rep. Sheila Jackson Lee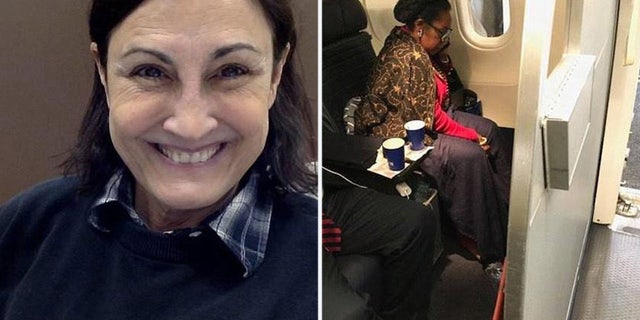 NEWYou can now listen to Fox News articles!
A woman who booked a flight from Houston to Washington, D.C., accused United Airlines of giving her first-class seat to Rep. Sheila Jackson Lee, D-Texas — and later threatening to remove her after she complained and snapped a picture of the anti-Trump congresswoman, although the airline said it happened because the woman canceled her reservation on the airline's app.
Jean-Marie Simon, who used 140,000 miles to buy first-class tickets to take her from Washington, D.C., to Guatemala and back home, described the experience as "so completely humiliating," reports the Houston Chronicle.
When it was time to board the last leg of her flight home from George Bush International Airport on Dec. 18, the gate attendant told Simon that her paper ticket was not in United's system and asked if she'd canceled her flight.
"No," the 63-year-old attorney replied. "I just want to go home."
Simon was told that her seat was taken, and United gave her a $500 voucher and reseated her in the Economy Plus section in row 11.
Later, Simon learned that Jackson Lee, who has been a vocal proponent of impeaching President Trump, was in the seat she'd purchased and has alleged that the congresswoman received preferential treatment, which United denies.
"We were concerned by this issue and took immediate steps to fully understand what happened. After thoroughly examining our electronic records, we found that upon receiving a notification that Flight 788 was delayed due to weather, the customer appears to have canceled her flight from Houston to Washington, D.C. within the United mobile app," United said in a statement to Fox News. "As part of the normal pre-boarding process, gate agents began clearing standby and upgrade customers, including the first customer on the waitlist for an upgrade."
Simon denied that she canceled her ticket. She did not comment further when contacted by Fox News.
Jackson Lee issued a statement on Saturday afternoon to the Chroncile, saying "I asked for nothing exceptional or out of the ordinary and received nothing exceptional or out of the ordinary." The congresswoman's office did not respond to Fox News' request for comment.
Simon shared a screenshot of the United website that showed only one "inactive" reservation, which was a flight to Houston in August that she canceled because of Hurricane Harvey.
A United spokesperson told Fox News the screenshot didn't show the December flight as canceled because Simon ultimately took the flight. The airline provided the Chronicle with another screenshot of its internal software and said it showed the flight had been canceled on the mobile app, but that was not verified by the publication.
The airline said it reached out to Simon "to explain what occurred, to apologize for her experience and will be offering compensation as a gesture of goodwill."
Simon reportedly saw Jackson Lee board the plane with a flight attendant before all of the other passengers but did not immediately recognize her. A short while later Simon snapped a picture of Jackson Lee and told a flight attendant that she knew why she'd been bumped.
In her statement, Jackson Lee said she overheard Simon speaking with an African-American flight attendant and saw her snap the photo.
"Since this was not any fault of mine, the way the individual continued to act appeared to be, upon reflection, because I was an African American woman, seemingly an easy target along with the African American flight attendant who was very, very nice," Jackson Lee said in the statement, according to the Houston Chronicle.
"This saddens me, especially at this time of year given all of the things we have to work on to help people. But in the spirit of this season and out of the sincerity of my heart, if it is perceived that I had anything to do with this, I am kind enough to simply say sorry."
Simon said Jackson Lee's statement accused her of racism, adding: "I had no idea who was in my seat when I complained at the gate that my seat had been given to someone else," she said. "There is no way you can see who is in a seat from inside the terminal."
About five minutes after Simon took the photo on the plane, Simon said, another flight attendant sat next her and asked if she "was going to be a problem."
On Facebook, Simon wrote that she sat next to a Texas congressman who identified Jackson Lee as being in Simon's seat and said to her that this was the third time he personally had watched the Houston congresswoman bump a passenger, adding, "Jackson Lee gives us all a bad name; it's shameful."
When she got home, Simon wrote a letter to airline's CEO and posted it on Facebook and Twitter. A "resolution manager" called her the next day and apologized at least a half-dozen times, she told the Chronicle.
However, Simon said she still wants a formal, written apology from United.
"It's just impossible to suspend disbelief and swallow that story that I canceled my flight," Simon said.
This incident is the latest in a series of customer relations gaffes this year for United.