Woman brings knife through New Zealand airport, causes 'massive delays'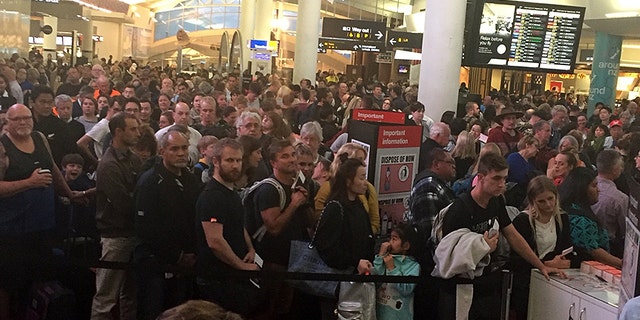 A female passenger who brought a knife through security at Auckland Airport in New Zealand ended up causing significant delays while police searched for her in the international terminal.
The woman reportedly had the knife "on her person," but managed to get it past screeners and through an X-ray machine on Tuesday, Newshub reported. Passenger processing was suspended soon afterward, while security searched the terminal for the suspect.
CAT BREAKS OUT OF CRATE AT JFK AIRPORT, SENDS POLICE ON CHASE
A spokesman for New Zealand's Aviation Security Service confirmed to Radio New Zealand that the woman was later located with the knife in her carry-on bag. The Aviation Security Service added that no arrests were made, according to Stuff.co.nz.
At least four flights were delayed as a result of the incident, and Radio New Zealand reported that as many as 3,000 passengers were inconvenienced. The Auckland Airport resumed screening procedures shortly after the woman was located, but admitted that it could "take some time to clear the backlog" of passengers waiting to be processed.
WOMAN FINED FOR ACCIDENTALLY FALLING INTO BAGGAGE CAROUSEL, GOING FOR RIDE
Twitter photos from Auckland Airport show what appear to be scores of passengers waiting to get through screening checkpoints, with some users describing "massive delays" and the "shut down" of airport security.
However, only moments after documenting the scene in his above tweet, passenger James Kenyon confirmed that travelers were again "on the move" through security.