Wineries Let You Uncork Your Inner Winemaker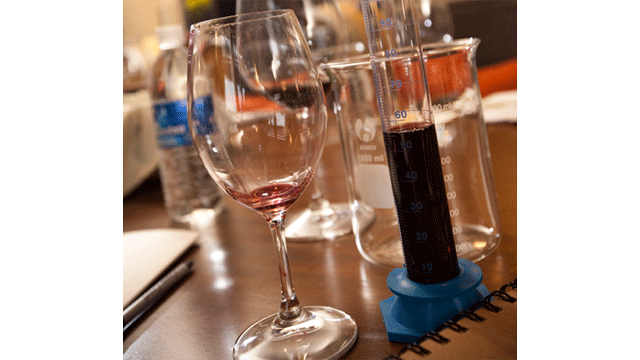 Harvest season is in full swing in California wine country, and this year's long winter and untimely rains in the recent forecast have winery workers hustling to get grapes off the vine and into fermentation tanks.
But inside the spacious AVA Room of Napa Valley's Conn Creek Winery, it's all sniffs, sips and smiles as the AVA Room Barrel Blending Experience gets flowing. This hands-on, twice-daily class lets visitors create their very own bottle of wine, which they then cork and label themselves.
"It's a chance to come in and play winemaker for a day," says Andrea Jackson, wine educator at Conn Creek, who leads the blending class. "What people come to appreciate is the diversity of Napa, and how much work goes into creating a bottle of wine. And people come up with some really amazing stuff. I've actually photocopied people's formulas."
Conn Creek's popular offering (the AVA in its name stands for American Viticultural Area, or government-designated wine-growing region) marks a growing trend in both the wine and tourism industries, offering consumers an insider experience. In other words, instead of just stopping by a vineyard's tasting room, you can now get a real taste of the effort that goes into making the sweet nectar, from harvest and crush to blending and bottling (don't expect any barefoot grape stomping a la Lucille Ball, though. That method has all but been replaced by mechanical presses.).
Such interactive experiences play another bigger role for the wine industry: reducing the intimidation factor for newbies.
"For so long, winemaking has been perceived as out of reach by the general public as too elitist, too sophisticated," says Matthew Proschold, a tasting room associate at Dry Creek Vineyard in Sonoma County. He leads the winery's recently launched Meritage Blending Challenge, which pits no more than 10 attendees against each other to re-create The Mariner, the vineyard's award-winning Bordeaux-style blend.
"This is an opportunity to see not only that winemaking is an art form, but it's really accessible and personal, and it's not something to be frightened of," Proschold said.
Hands-on blending seminars are designed to appeal to participants of all levels, from diehard oenophiles to wine enthusiasts to those who are simply enthusiastic wine-drinkers. At Conn Creek, attendees start the process by tasting, straight from the barrel, as many of the 19 available varietals as they like (yes, you can expect a buzz after a while). Jackson suggests ranking them on a number scale in order to select the main note for their blend.
"It's like a city skyline, with one building as the focal point and everything else just enhances it," she explains.
Proschold, meanwhile, encourages participants to think about wine in terms of other sensory experiences, like music. "Tell me this wine tastes like a B.B. King solo, if that's more authentic to you," he says.
Whatever their taste preferences, attendees are sure to recall high school chemistry class using the glass pipettes, graduated cylinders and funnels – just a few of the key tools for winemakers – in the actual blending. (Which, incidentally, are way more fun to tinker with when wine, not water or glycerin, is the liquid being measured.)
Getting favorable results for the fruits of your labor, whether it's a glass to be enjoyed on premises or a bottle to take home (or both), takes some experimenting with percentages and usually some help from the expert. So if your concoction initially skews more toward Two-Buck Chuck instead of Opus One, don't fret.
"There really are no rules," Jackson says. "If you've chosen wines you like, you're usually no more than 5 percent off. Most everything is fixable."
If not delightfully drinkable.
Here, ways you can become a winemaker for a day, in California and beyond.
Conn Creek AVA Room Barrel Blending Experience, Napa Valley, Calif.
What to expect:An informative yet informal two-hour session focusing on the same varietals Conn Creek's winemakers use to blend their flagship ANTHOLOGY wine, an award-winning Bordeaux-style blend. Taste from as many of the 19 barrels, which represent 14 of the 15 AVAs in Napa Valley, as you like to create your very own self-corked, self-labeled blend. Wine educator Andrea Jackson does an excellent job providing honest feedback ("You might want to consider scaling back on the Malbec") and practical tips ("When your nose needs a break, sniff your arm"). Classes held daily, except Wednesdays, at 10:30 a.m. and 2 p.m.
Cost: $95 per person, $65 for wine club members
Meritage Blending Challenge, Dry Creek Vineyard, Sonoma County
What to expect: A lively session, led by the knowledgeable Matthew Proschold, also a theater instructor, will offer a crash course on the five grape varietals that go into Bordeaux-style blending. But it's called a challenge for a reason: You'll be going up against fellow attendees (no more than 10) to see who can come closest to The Mariner, the vineyard's award-winning Bordeaux-style blend. Classes are held 11 a.m. and 2 p.m. on weekends; call ahead for reservations.
Cost: $15 for Dry Creek wine club members; $20 for non-members
Wine blending classes, Crushpad, Sonoma, Calif.
Crushpad has a loyal following among serious home vintners because they can create custom barrels and oversee the entire winemaking process. But individual blending classes are an ideal option for rookies. Two-hour sessions provide excellent background on aromatics and throughout October, you can also partake in CrushCamp, working alongside cellar hands and winemakers as they tackle harvesting tasks like sorting grapes and punching down fermentation bins. Blending sessions are from 1:30-3:30 p.m. on Fridays and Saturdays (though Fridays are less crowded.).
Cost: Blending classes, $75 per person
Mini and Full Blending Seminars, Lambert Bridge, Sonoma County
What to expect:You're likely to linger around this winery's handsome, candle-lit barrel room and stunning grounds anyway, so why not soak up even more of the winemaking experience? The Mini Seminar lasts about 45 minutes, while the approximately two-hour full experience is worthy of the splurge for more knowledgeable visitors. You'll leave both with a bottle of your own Bordeaux-style blend; call ahead for reservations.
Cost: $50 per person for mini seminar; $125 for full
Click here for Fox News' California Wine Country Vacation Guide.
Winemaker Wanna Be weekend package, Chateau Elan, Braselton, Ga.
What to expect: One of the pioneers in Georgia's burgeoning wine industry, this beautiful property features an on-grounds winery that's now letting guests in on the winemaking action. Packages include a blending class, your own personalized bottle of wine, breakfast for two, a private guided winery tour and tasting, and, best of all, well-appointed rooms to rest your wine-weary bod. The next available dates: Oct. 8 and Nov. 26; call ahead for reservations.
Cost: $259, not including tax
Click here for Fox News' Atlanta Vacation Guide.
Wine Camp, Long Island, N.Y.
While the kids are off learning how to tie square knots and start campfires from scratch, you'll be learning winemaking techniques from some of the top winemakers on Long Island. These four-day camps include all kinds of interactive experiences, including a blending class. Dates for 2012: April 26-29; June 25-28; July 16-19.
Cost: $999, which includes most meals and a case of wine
Click here for Fox News' New York City Vacation Guide.
If you go:
A heads-up for those who prefer white wine: Most blending classes involve Cabernet and Bordeaux-style varietals, so if reds aren't your thing, you might want to reconsider. Wear dark-colored clothing to disguise the inevitable spills and splashes, and bring a sweater or jacket, as classes usually take place in cool barrel rooms. And drink plenty of water to stay hydrated between all that tasting.