Will the new Harry Potter ride at Universal Studios Hollywood make you barf?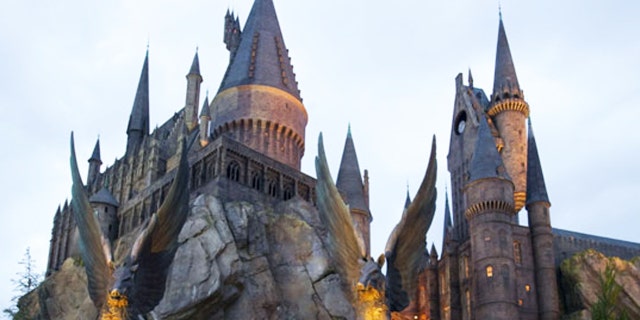 It hasn't officially opened yet but a new attraction at The Wizarding World of Harry Potter at Universal Studios Hollywood is already gaining an unpleasant reputation for making riders throw up.
Harry Potter and the Forbidden Journey in California is almost identical to the ride of the same name at the park in Orlando, Fla..
The ride doesn't open until April, 7, but Universal has been testing the ride among park employees and a few guests—with mixed results. Last weekend, TMZ.com reported that the ride, a dark ride involving flips, twists and turns, "makes people hurl."
"The guinea pigs, aka Universal employees, who have jumped on the broom haven't been able to handle the adventure, and the engineers are trying to figure out what's different from the Orlando ride," reports TMZ along with shaky video published by an alleged attraction tester.
In Orlando, the Forbidden Journey ride takes guests soaring through Hogwarts' hallways and grounds, recreating iconic scenes from the popular film franchise. The dark ride has a mixture of props and projected screen images. Riders are moved from side to side, up and down on "enchanted benches"—at one point even flipping onto their backs.
The big difference between the Hollywood Studios and Orlando rides is that California riders don 3-D goggles.
But Universal spokesman Tom Schroder told FoxNews.com that the 3-D aspect is not making employee or select guest testers sick on the ride.
"Tens of millions of people across the globe have ridden Harry Potter and the Forbidden Journey at our parks in Orlando and Japan and they've had an incredible experience, with no issues," said Schroder.
He said that any reported incidents of illness are likely due to the same type of motion sickness one could get from riding in a car, boat or any other vehicle. He reiterated that Universal posts advisories in front of all attractions to warn guests about the potential issues regarding preexisting medical conditions.
Online, the Forbidden Journey has gotten mixed reactions from riders.
Universal Orlando guest Beth Whiteside told The Orlando Sentinel that she took the motion sickness drug Dramamine before the ride but still ended up vomiting twice at the end of the attraction.
"It was really, really bad," said Whiteside. "I ended up having to shut my eyes. I was still like, 'Oh, Lord, I'm not going to make it.'"
Major theme parks in Florida are required to report ride-related injuries and illnesses that are serious enough to warrant hospital stays exceeding 24 hours. Universal Orlando has reported 10 such cases of motion sickness or nausea directly related to Harry Potter and the Forbidden Journey since its opening.
But many others have reported pleasant experiences among riders of all ages.
On Orlando Informer, the ride has an average rating of nearly five out of five stars.
"One of the best rides ever created, the Forbidden Journey is a truly unforgettable experience. Everything from the ride cue to when you first sit down is incredible," commented one rider.
"This is the most amazing, one-of-a-kind ride I have ever been on...or heard of for that matter!" wrote another. But did advise avoid "drinking too much Butterbeer before you ride!"
In December, a FoxNews.com reporter was told by a Universal employee tour guide that the park had a clean-up room where spare clothes were kept for riders who got sick on the Forbidden Journey attraction.
Schroder said he was not aware of a specific room but indicated that "across the whole park, [Universal] employees are trained and prepared to help guests in any way we can."
Maybe guests should stick to the reportedly tamer Flight of the Hippogriff.