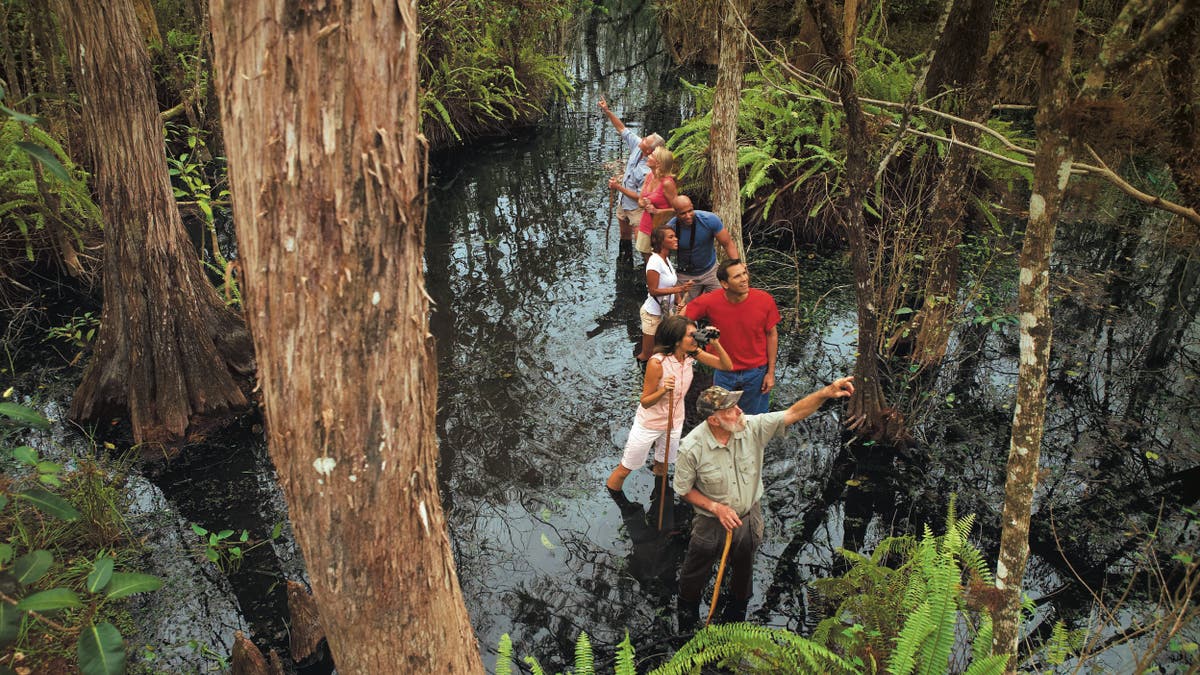 For Peggy Farren, photographing the Everglades is always a thrill.
As the owner of a Naples, Florida-based photography business, her job is high-paced, stressful and comes with long hours. Most days she is in the office snapping corporate headshots, teaching classes, assisting with bookkeeping and generally holding down the fort.
Any chance to get out of the office and into nature is a major stress reliever for her-- but the Florida's Everglades, known best for its wildlife and overgrown wetlands, may seem like an unlikely place to get away from it all.
We're talking trudging through thigh-deep water, covered in bug spray, with just a walking stick.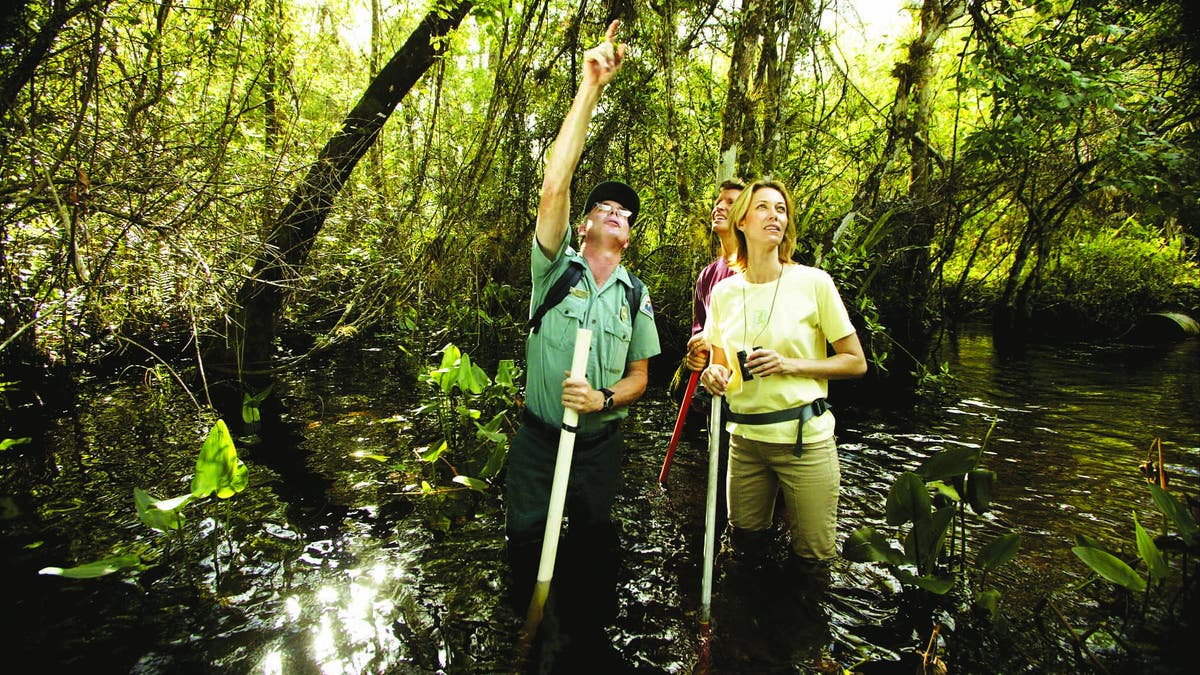 This begs the question: What about gators? And spiders. And snakes. Oh my.
Indeed, those all terrified Ferrenat first, but, she says, facing her fears was absolutely worth it. Her first excursion was last September during rainy season. Decked out in long sleeves, nylon pants, old tennis shoes, a hat and sunglasses, she, along with two other avid swamp photographers, trekked down Gator Hook Trail, part of Big Cypress National Preserve. The end goal: make it the cathedral-like cypress dome.
The trail started off dry. Soon enough, members in her group were ankle-deep-- then knee-deep-- and by the time they were inside the cypress dome, waist-deep in water.
"The person in front can see through the clear water, but it was stirred up and murky for those of us in line," Farren explains. "It was a long and slow walk."
Her friends, who are old pros when it comes to swamp-walking, explained how unlikely it would be to see a gator since they prefer marshy areas or open water and they like the sun as opposed to shady cypress domes.
Fortunately, they had no gator encounters. Farren says there's nothing quite like walking through the swamp, soaking up the serenity and snapping some killer photos. Rather than thinking about texting or which restaurant she'd go to for lunch, being in swamp allows her to totally let go to of modern stressors.
Allyson Gantt, park ranger and director of education for Everglades National Park, echoes Farren's feeling about being in such a lush wilderness.
"There's just something magical about this place with the clear dark water below and the soft wispy cypress needles above," Gantt says.
"The cypress trees are usually covered with bromeliads, spiky air plants that gather water from dew and rain and simply use their host trees for support. On a windy day, the cypress trees clatter just a little bit as they brush up against each other.
"Stepping off the road into the clear water, it's always surprisingly cool, just enough to take your breath away for a second."
It might not sound appealing to indoorsy types but devotees like Ferren keep coming back to catch a glimpse at the Everglades wildlife.
You'll see crayfish, dragonfly nymphs, even the elusive ghost orchid, if you're lucky. But for many, the potential gator encounters have them shying away from this experience altogether. But, says Gantt says, those fears are largley unfounded. She has led 100-plus tours through the swamp and spotted gators less than 10 times.
"Generally speaking, we do the walks in shallow water," she says.
"The alligators are typically near deeper water. That said, occasionally we see them in the culverts or a canal near the road where we enter. Once, when I was in a very typical cypress dome with a deep hole in the center, we saw a good-size alligator who was clearly the resident of the deep hole in the center of the dome. Other times, late in the dry season, I've seen alligators left in the few patches of water that remain. We tromped by in the mud, without disturbing the alligator in the water hole."
For Farren, she is far beyond that fear now and cannot get enough swamp-walking.
"I am now addicted," Farren says. "Going into the swamp is truly getting away from it all. The hikes are not too strenuous since you can't walk very fast. It's just so great to be out in nature and enjoying its beauty."
If you go:
Clyde Butcher's Big Cypress Gallery
52388 Tamiami Trail East, Ochopee; 239-695-2428
clydebutcher.com
Everglades Area Tour
238 Mamie St. Chokoloskee Island; 239-695-3633
evergladesareatours.com
Fakahatchee Strand Preserve State Park
137 Coastline Drive, Copeland; 239-695-4593
floridastateparks.org/park/Fakahatchee-Strand
Big Cypress National Preserve
52105 Tamiami Trail East, Ochopee, Oasis Visitor Center; 239-695-4758
nps.gov/bicy
Everglades National Park
40001 State Highway 9336, Homestead; 305-242-7700
nps.gov/ever