Where America's most famous leading men and women are laid to rest
These stars of the silver screen burned bright, some briefly and others for a lifetime. Many remain larger than life even in death as fans to trek to their gravesites, leaving all manner of remembrances.
Here's where to find the eternal resting places of some of America's best-known actors and actresses:
1. Bette Davis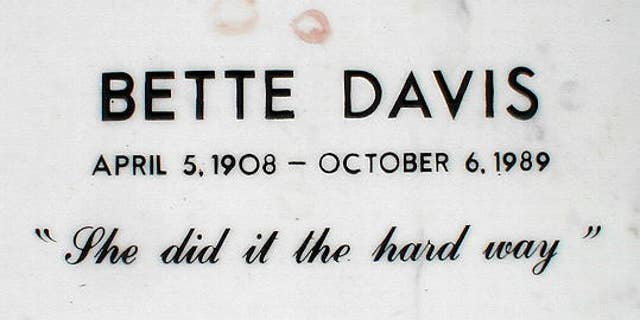 How do you find Bette Davis' grave among the many at Forest Lawn Memorial Park in the Hollywood Hills? Look for the one that's covered in lipstick kisses.
Davis, who appeared in more than 100 films and won Best Actress Oscars for "Dangerous" in 1935 and "Jezebel" in 1938, died in 1989 at the age of 81 and was buried in the family sarcophagus in the Courts of Remembrance section of Forest Lawn. The cemetery, located close to Griffith Park, offers views of the San Fernando Valley and the Los Angeles skyline and features several churches, historical artifacts and a variety of artwork.
2. Cesar Romero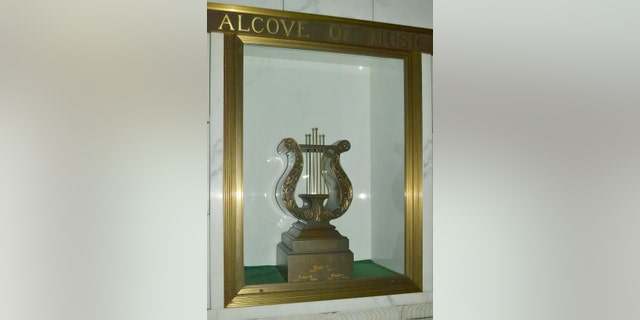 You can find the gravestone of film and TV icon Cesar Romero, who appeared on screens big and small from the 1930s to the 1990s, at Inglewood Park Cemetery in the Los Angeles area. Home to many luminaries, from sports figures to actors, the 100-year-old cemetery features rolling hills and tree-lined paths.
Romero appeared in popular movies including "Around the World in 80 Days" and "Ocean's Eleven" with members of the "rat pack," and starred as the Joker in the 1966 TV series "Batman." He died at the age of 86 in 1994.
3. John Candy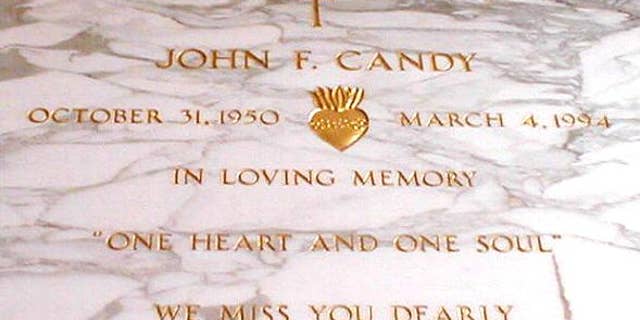 John Candy, known for comedies like "Planes, Trains and Automobiles," "Uncle Buck" and "Home Alone" along with a stint on SCTV, found his final resting place in Holy Cross Catholic Cemetery in Culver City, Calif. Candy was filming a movie in Mexico in 1994 when he died in his sleep of a heart attack. He was only 43. His gravestone reads, "One Heart and One Soul; we miss you dearly."
4. Lucille Ball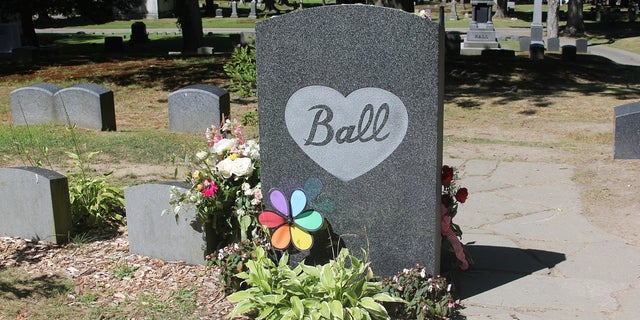 TV's legendary "Lucy" died at the age of 77 in 1989 and was buried in Forest Lawn Memorial Park, but her remains were later moved at the wishes of her daughter to Lake View Cemetery in Jamestown, N.Y., where she was laid to rest alongside her family.
The "I Love Lucy" comedian was born in Jamestown, where visitors can learn all about her life and see memorabilia from her career at the Lucille Ball-Desi Arnaz Museum and Center for Comedy. The town hosts the annual Lucille Ball Comedy Festival, which has featured famous comedians including Jerry Seinfeld, Jay Leno and Bob Newhart.
5. Clark Gable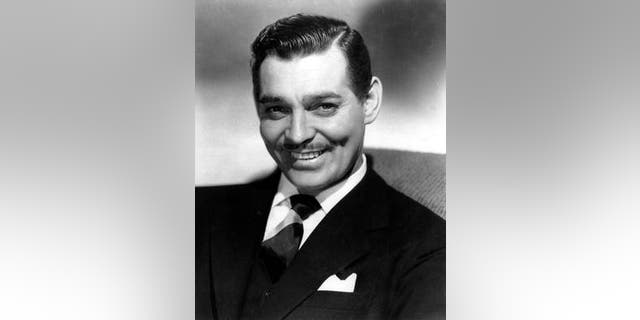 Who will ever forget Clark Gable, especially as Rhett Butler in "Gone with the Wind"? The suave and dapper film star from Hollywood's Golden Age died at the age of 59 in 1960 and was buried next to his third — and most famous — wife, actress Carole Lombard, who died in a plane crash in 1942. Their graves can be found at Forest Lawn Memorial Park in Glendale, Calif., known for its world-renowned art museum and as home to two of the largest religious paintings in the Western Hemisphere.
6. Chris Farley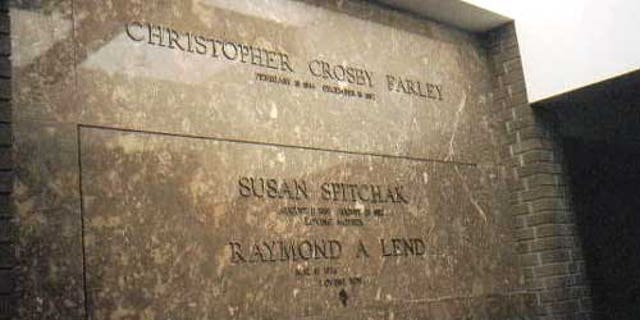 Chris Farley, a favorite among Saturday Night Live fans for his physical comedy and raucous humor, died of a drug overdose in his Chicago apartment in 1997. He was only 33.
After a successful stint on SNL, Farley starred in movies like "Tommy Boy" and "Beverly Hills Ninja." He was buried in Resurrection Cemetery, a Catholic cemetery in Madison, Wis., where he was born and raised.
7. Marilyn Monroe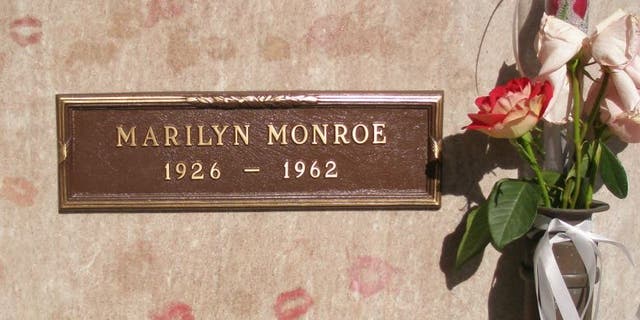 The ultimate American sex symbol, Marilyn Monroe was only 36 when she died of a drug overdose in 1962. She was buried at Westwood Village Memorial Park Cemetery in Los Angeles. Her grave, like that of Bette Davis, is covered in kisses. It is said that baseball legend Joe DiMaggio, Monroe's second of three husbands, had flowers delivered to her grave twice a week for two decades.
Marilyn began her career as a pin-up model and evolved into an actress, starring in films including "The Seven Year Itch," "How to Marry a Millionaire" and "Gentlemen Prefer Blondes."
8. Betty Grable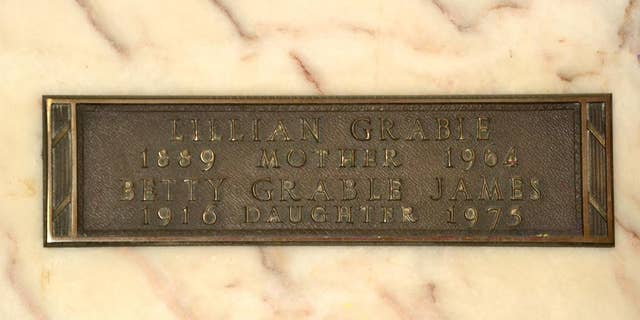 Betty Grable, a 1940s, '50s and '60s dancer, singer and actress, was famous for her shapely legs, which were insured for $1 million and made her the favorite pinup girl of American soldiers during World War II. She co-starred with Monroe in "How to Marry a Millionaire."
She died at the age of 56 in 1973 and was buried in Inglewood Park Cemetery near Los Angeles.
9. Natalie Wood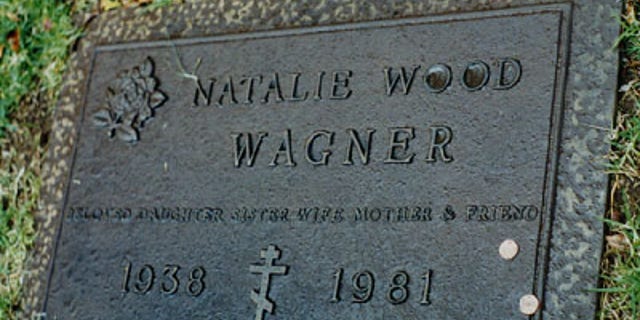 Known for classic roles in movies like "Splendor in the Grass," "West Side Story" and as a child actress in "Miracle on 34th Street," Natalie Wood was 43 and married to actor Robert Wagner when she drowned under suspicious circumstances off Santa Catalina Island, Calif., in 1981.
Wood was buried in the same cemetery as Marilyn Monroe —Pierce Brothers Westwood Village Memorial Park, a 2 1/2-acre property off Wilshire Boulevard near UCLA in Los Angeles.