Walt Disney's original Disneyland map could sell for $1 million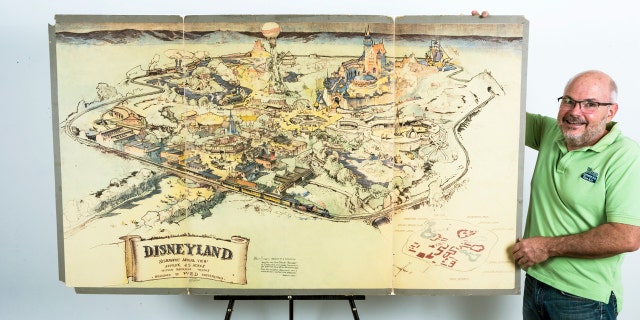 This one-of-a-kind piece of Disney memorabilia is nothing to Sneezy at!
The first-ever map of Disneyland could fetch up to $1 million when it hits the auction block next month.
The 3 ½ foot by 5 ½ foot tri-fold, hand drawn poster created by Walt Disney in a weekend in 1953, features the first iterations of attractions at the now-famous amusement park – some of which had their names changed, and others scrapped entirely.
For example, Frontierland and Tomorrowland, two of Disney's "themed lands," were originally marked as Frontier Country and World of Tomorrow, respectively.
DISNEY BRINGING HUMAN-LIKE ROBOTS TO PARKS?
Meanwhile, something called Lilliputian Land never came to fruition. Other attractions were seen through from concept to reality.
Disney wanted his park to include a train station, old-fashioned Main Street square, princess castle, pirate ship and perhaps even a rocket – attractions that exist in the Anaheim, Ca., park today.
He and his brother/business partner Roy Disney used the drawing to obtain financing from investors to build the park. It fell into the hands of collector Ron Clark some 40 years ago through a former Disney worker who'd been pals with Walt himself.
FOLLOW US ON FACEBOOK FOR MORE FOX LIFESTYLE NEWS
"It had this aura," Clark said. "It just kind of puts you in awe that this is the piece that came out of Walt Disney's mind and this is what came about: this park, these parks worldwide, the passion people have for it today and the happiness of hundreds of millions who have graced these lands."
But now the avid Disney fan, who visits the California park at least three times a year, wants to pass on his prized possession to another diehard.
"It was always my desire to somehow return it to Disney," he said. "I wanted it to go home. For 40 years, that has been my wish."
This story originally appeared on NYPost.com.