Virgin Atlantic reaches out to disabled woman who was denied access to lounge in 'tone-deaf' letter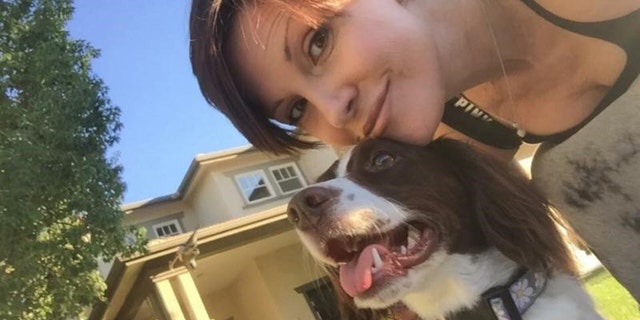 Micaela Bensko wanted Virgin Atlantic to learn from the mistakes they made last week when they denied her and her service dog entry into their JFK lounge.
But instead, Bensko says she only got a "tone-deaf" peace offering from the airline.
Bensko, a wheelchair-bound mother of four who suffers from severe spinal pain as the result of an accident in 2011, was initially denied entry into Virgin Atlantic's JFK lounge on May 10, when a Virgin employee told her that that her dog, Blue Belle, didn't have the correct paperwork for a service animal, and might cause a "possible discomfort to others" in the lounge.
BRIDE AND GROOM ON WAY TO WEDDING BOOTED OFF UNITED FLIGHT
Bensko told Fox News that she knew enough about Federal Law and service-animal regulations to refute the employee's statements — she always pays extra to use an airport lounge so she can lay down and alleviate her spinal pain before a flight, and she always travels with her dog — but she and Blue Belle still were not granted access.
Bensko later uploaded footage and audio from the incident to YouTube, along with an open letter to the airline industry asking for "a change in how airlines and corporations train (or in this case, don't train) their employees as to the federal laws mandated specifically to protect the disabled."
Now, days after the incident, Bensko tells Fox News that she finally received a response from Virgin Atlantic, but they didn't exactly tell her what she wanted to hear.
Bensko spoke with a representative from Virgin Atlantic earlier this week, and on May 15, she says the airline emailed her to apologize. According to the letter, which she shared with Fox News, a representative for the airline promised that the company was working with its "customer-facing teams" to ensure the "proper care of all our customers" as it relates to their policies. He then offered her a ticket for a complementary domestic return flight and the full use of the Virgin Atlantic Clubhouse during her travel.
"I am truly sorry and I hope that you will be in touch when you wish to take advantage of this," read the letter provided by Bensko.
DISABLED REPORTER BLASTS EASYJET AFTER BEING STRANDED WITHOUT WHEELCHAIR ASSISTANCE
According to Bensko, however, a free ticket isn't what she was fishing for.
"A single ticket for me, no matter how glamorous it may sound, is unthinkable and again tone-deaf to all we have discussed," responded Bensko, before urging the representative to research complex regional pain syndrome (CRSP) and arachnoiditis, which are two of the chronic conditions she suffers from.
Bensko also reiterated her opinion that Virgin Atlantic's employee-training program needs an overhaul.
"I hold your employee less culpable than the neglectful nature of your employee training program focusing just on the general population, and not the millions of disabled passengers, as an efface to the very foundation your company is based on by Richard Branson's humanitarian ideals," she wrote.
Bensko tells Fox News that she had originally hoped Virgin could be the first airline to take a stand for the disabled, and further educate their employees on proper ADA (Americans with Disabilities Act) laws. But now, she says she's hoping her story can inspire at least one other carrier to step forward.
FOLLOW US ON FACEBOOK FOR MORE FOX LIFESTYLE NEWS
"I'm not going away until the airlines, even just one airline, says they are going to be the first to say they care," she said.
Bensko has not yet heard back from the airline about her latest letter, though she did confirm that she filed formal complaints with Department of Justice and the Department of Transportation, the latter of whom is submitting her case for investigation.
A representative for Virgin Atlantic has since told Fox News the initial incident was a "genuine mistake," and that the company is reviewing its training procedures to prevent further mistakes.