Violinist claims Southwest Airlines forced him to leave flight after he refused to check $80,000 instrument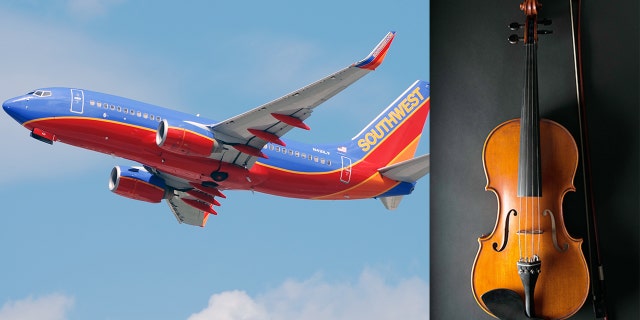 An accomplished musician's relationship with Southwest Airlines has hit a sour note, as he's claiming he was forced to remove himself from a flight for refusing to check his $80,000 violin.
On Nov. 5, pro violinist Emmanuel Borowsky boarded a flight from Manchester-Boston Regional Airport to Baltimore with his pricey instrument, Classic FM reports, when things took a turn for the worse.
"After checking in last night and arriving early to the gate, I was met with full overhead bins on the plane. The availability of extra seating space prompted me to place my violin there. In response, I was requested to check-in my violin," Borowsky wrote on Facebook. "As fellow musicians can understand, checking in my violin is an absolute non option."
DELTA APOLOGIZES AFTER CUSTOMER WAS 'COVERED' IN DOG POOP FROM SEAT
The delay forced him to miss business meetings as well as presentations at the University of Maryland, College Park, and teaching at Towson University, according to his post.
Borowsky holds a Doctor of Musical Arts from the University of Maryland and has performed in over 37 countries, as per his website.
"Despite being a loyal Southwest customer who uses them exclusively when the option is available, I am very disappointed with the treatment I received this morning," he concluded on social media.
"[The crew] were just completely unwilling to assist," the musician later told Classic FM. "They only offered me one option – either the violin goes in the hold, or you get off. There wasn't any negotiating, I wasn't going to make a scene and they weren't willing to be reasonable, so I had to get off the flight."
"I've flown multiple times and both the airline and the FAA [Federal Aviation Administration] have normally been really accommodating to all musicians and their instruments. I've never had an issue before," he added.
FOLLOW US ON FACEBOOK FOR MORE FOX LIFESTYLE NEWS
Though reps for Southwest did not immediately return Fox News' request for comment, they did offer the outlet the following statement:
"We regret that [Borowsky] had anything less than an outstanding experience as we always strive to provide our legendary Southwest Hospitality on every flight. Our records indicate that the customer was among the very last to board the full flight and, unfortunately, the overhead bins spaces were filled with the carry-on baggage of other customers."
Notably, this is the second time in recent months that a musician has made headlines for being removed from a flight with a major American carrier over issues related to traveling with a pricey instrument. In early August, a female violinist was booted from an American Airlines flight after cabin crew informed her that her $30,000 cello was "too big" for the seat she purchased for it