VIDEO: Tourists plunge 26ft as suspension bridge collapses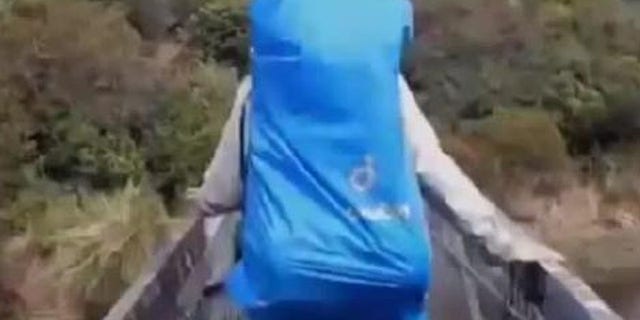 NEWYou can now listen to Fox News articles!
A group of French hikers miraculously suffered only bumps and scratches after a large footbridge they were crossing in New Zealand suddenly fell out from beneath them.
Adrien Whistle and three friends were crossing the bridge near Lake Waikaremoana, on New Zealand's North Island, Sept. 3 when a cable supporting the bridge snapped, according to the New Zealand Herald.
The footage, captured and uploaded to YouTube by Whistle, shows the terrify moment they took the plunge while crossing the 213-foot-long Hopuruahine bridge in Hawkes Bay.
In the video you see as the bridge, which is designed to carry a maximum of 10 people, snaps sending three of the tourists plummeting 26 feet into the river below, while the fourth clings to the mangled bridge.
Amazingly, no one was injured.
Department of Conservation operations manager Mike Slater told the Herald that authorities have launched an investigation, adding that the incident was an "extremely rare occurrence and we just need to understand in this particular case exactly what did happen."