Universal's Halloween Horror Nights gets more terrifying with 'American Horror Story' reboot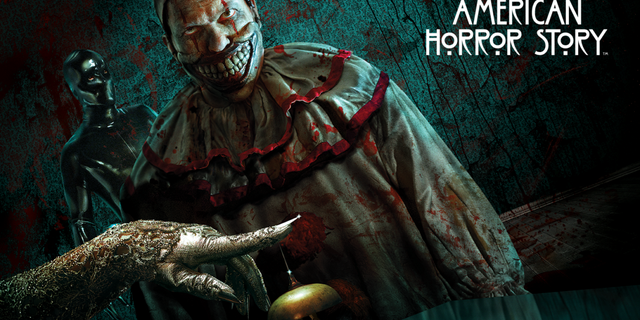 The smell of pumpkin spice is coming sooner than you think.
And so will the blood curdling screams coming from Universal Park's "Halloween Horror Nights."
The park's annual terrifying scare fest just got even bloodier by joining forces with one of the the most gruesome shows on television, FX's acclaimed-- and controversial-- "American Horror Story" series.
"'American Horror Story' has been the number one requested maze from our guests and we're excited to let them know that we listened to them and are bringing 'American Horror Story' to life." said John Murdy, Creative Director at Universal Studios Hollywood and Executive Producer of Orlando's annual Halloween-themed event.
Gore enthusiasts can expect to be led through a live-action Halloween Horror Night maze recreating three bone chilling chapters from Ryan Murphy's anthology. First, guests will embark on a terrifying journey to become the next doomed residents of Murder House from Installment 1; then they'll find out what it feels like to be tortured performers in the twisted Freak Show from Installment 4, and finally, guests will become victims of the otherworldly, death-dealing 'Hotel' from Installment 5.
The sinister attraction will coincide with the "American Horror Story's" sixth series premier debuting Sept. 14.
Despite the mature, adult-themes that have become mainstairs of the show, Murdy says the series is a perfect fit for the parks. A representative for Universal Orlando confirmed to FoxNews.com that there is no official age limit to Halloween Horror Nights but it is only recommended for ages 13 and above.
"'American Horror Story' is one of the most disturbing television shows ever produced, and with such perverse storylines unfolding with each installment, 'Halloween Horror Nights' is undoubtedly the only place that could create a living version of the nightmares that Ryan Murphy dreams up," says Murdy.
What started as a humble three-night event celebrating Halloween, Universal's Halloween Horror Nights has grown into the entertainment giants signature attractions. The park doesn't release official attendance numbers but experts estimate an extra 600,000 guests visit the park during the extended hours to get spooked. The event has been going strong for 25 years.
The business of fear isn't cheap, though, as tickets at the Orlando park cost $104.99 for a single night of terror.
"Halloween Horror Nights" will show at both Universal's Orlando Resort and Universal Studios Hollywood starting Friday, Sept. 16 through Oct. 31.
Carey Reilly is a lifestyle blogger, TV host, comedian and lover of cocktails. She is the editor of www.notsoskinnymom.com. Follow her on Twitter @careycomic and Instagram @careyreilly.