United flier says she was kicked off flight for wearing 'Black Panther' hat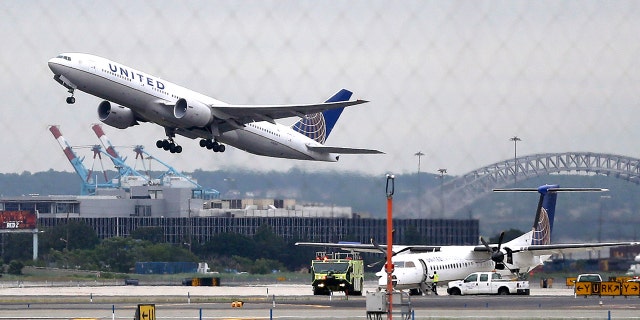 A freelance journalist claims she was the victim of racial profiling while traveling on a United flight from New York City to Chicago on Wednesday.
Amanda Stevens says she was about to board the plane when a gate attendant took her out of line. According to BuzzFeed, the airline employee told Stevens that the pilot requested the passenger change her shirt or turn it inside out before boarding.
Stevens said the attendant told her, "You did nothing wrong, however, our pilot has expressed concerns and discomfort over the shirt you're wearing."
Stevens was wearing a black and white t-shirt with an upside down American flag—a design collaboration between PacSun and rapper A$AP Rocky. She complied by turning the shirt inside out and was able to board the flight.
While seated, she began tweeting at United's official account to chronicle the ordeal and claims the pilot gave her a "smug" look after walking past her toward the bathroom.
He didn't seem that bothered to give me a smug look when he walked past me to the bathroom @united

— Amanda Stevens (@sagegnosis) October 12, 2016
Before the flight took off, an attendant approached Stevens again and said the pilot had concerns with her hat—a "Black Panther" baseball cap which, Stevens says, was not a reference to the black nationalist movement but a product from a line of branded Marvel superhero apparel.
Stevens said she was fed up with the situation and refused to remove her hat. The flight attendant then told her that she would have to leave the flight after failing to comply with the pilot's orders
"The pilot feels "uncomfortable" @united I didn't know he has to look at me while he flies. I feel uncomfortable having a racist pilot," Stevens tweeted.
According to United's contract of carriage, the airline has the right to refuse transport to any individual who is barefoot "or not properly clothed" or anyone who fails to "comply with or interfere with the duties of the members of the flight crew, federal regulations, or security directives."
Stevens' original flight was set to depart at 1:00 p.m. Wednesday but the next flight to Chicago wasn't until 5:00 p.m. that night. She says United offered her a first-class ticket on the later flight but wants others to know she didn't refuse to take off her hat for monetary reasons, nor does she have a political agenda. She did say, however, that she is used to being treated differently as a trans woman of color and hopes others can learn from her ordeal.
"My father is black, my mom is Caucasian, and people assume I'm Middle Eastern," Stevens told BuzzFeed. "I've always grown up with problems, I've always dealt with racism."
When reached for comment by BuzzFeed, a United spokesperson said that the airline has been in contact with Stevens and that they have "zero tolerance for discrimination."
"We are in contact with Ms. Stevens to discuss this matter further," the statement read. "Both United and SkyWest hold our employees to the highest standards of professionalism and have zero tolerance for discrimination."